For anyone who regards football or soccer as religion, Atlanta's new mega-stadium — the $1.5 billion Mercedes-Benz Stadium, opening on July 30 — is sure not to disappoint. The central design feature of the stadium, which will serve as the new home for the Atlanta Falcons and Atlanta United FC, will be modern take on the oculus in the Roman Pantheon.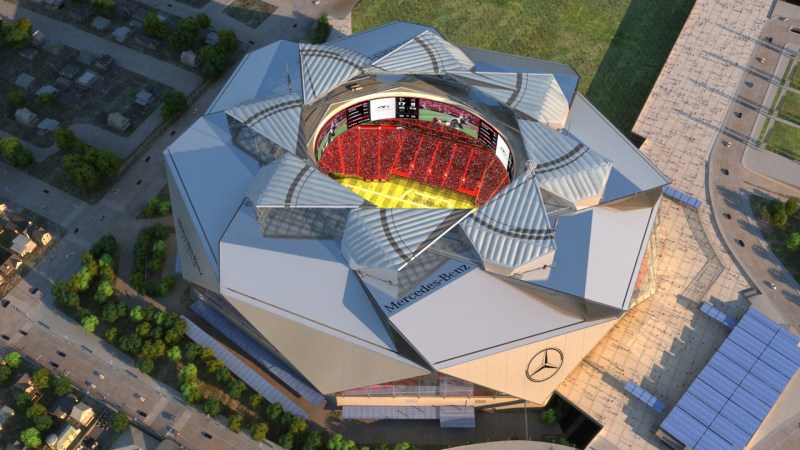 Instead of a simple circular opening, the ceiling will sport eight transparent fabric petals which will open like a camera aperture in a matter of minutes. The oculus will be ringed by a 360-degree display screen clocking in at five-stories tall, making it the largest in the world, and visible to the structure's maximum of 83,000 fans. A glass wall along one side of the stadium — called the "window to the city" — also five-stories in height, will overlook downtown Atlanta, a design feature that would make any ancient Roman jealous.
If that's not enough, the stadium will be 30 percent more efficient than a traditional one, thanks to 4,000 solar panels and charging stations for 48 electric vehicles. Those features, along with a 1-million-gallon storm vault to collect rainwater, puts the stadium on track to receive LEED Platinum certification, the highest level of building sustainability. A network of bike paths will complement the three rail lines accessing the stadium.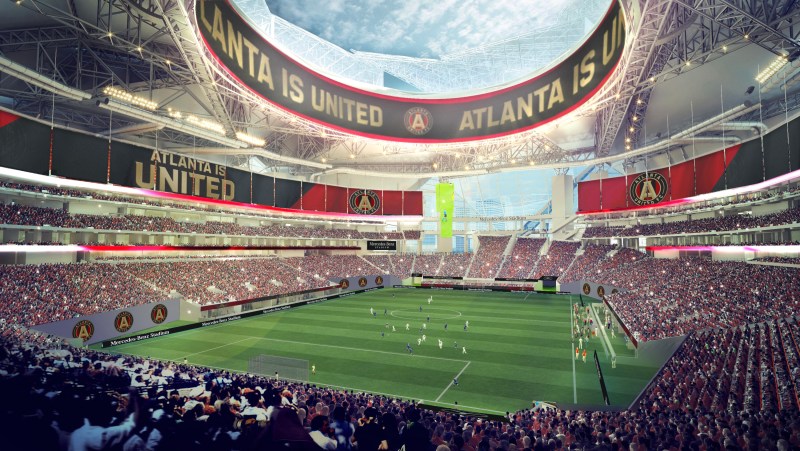 Two-thousand screens around the stadium will help fans catch any action missed while in the men's room. And a massive network of wireless connection points will allow virtually every person in the stadium to stream video simultaneously.
Still not impressed? How about the stunningly-low price for hot dogs and popcorn ($2), pizza slices and nachos ($3), and domestic beers ($5). And in a twist that airports should take note of, food from outside vendors will be priced the same as they are at their other locations. With 650 different locations selling food and drinks, designers project that waiting times will be significantly shorter than at the Georgia Dome, Atlanta's current stadium that the Mercedes-Benz Stadium will replace.
On July 30, the Atlanta United FC face off against Orlando City SC in the stadium's inaugural event, eventually followed by Super Bowl LIII in 2019, as well as the 2018 College Football Playoff National Championship and 2020 Men's Final Four.