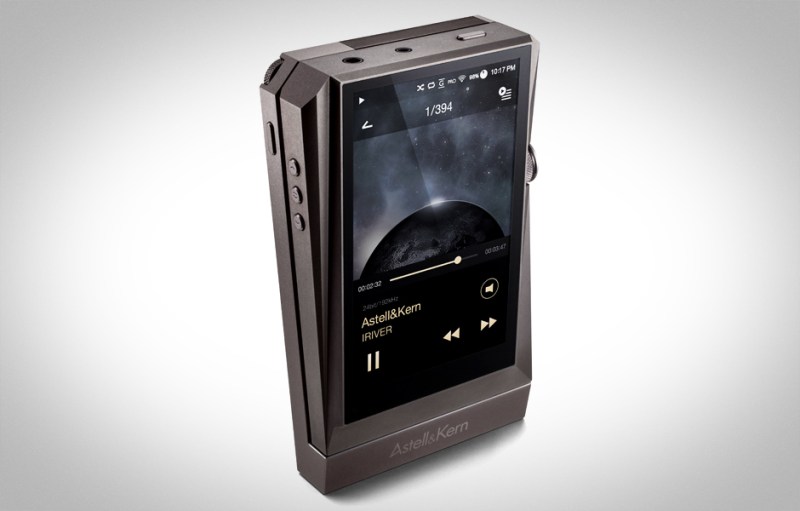 What do you do when you've got a shamelessly decadent high-resolution audio player, loaded with top-tier audio components, and more bells and whistles than an audiophile can shake a stick at? If you're Astell&Kern, you build an even more lavish audio player, of course. Meet the latest and greatest flagship portable audio device from Astell&Kern, the AK380.
Supplanting the $2,500 AK240 from the top of the heap, which we referred to as the "drug of choice" for audiophiles with infinitely deep pockets, the AK380 is the new hotness — to the tune of $3,500. While Astell&Kern has a long lineup of portable hi-res players that includes the relatively affordable new AK Jr ($499), the company has never been shy about going after the top 1 percent of the music-listening public. And if you're a part of that segment, the AK380 has plenty of sonic artillery to wine and dine you.
Related: Astell&Kern's AK Jr makes hi-res affordable(ish)
The AK380 takes high-res up a notch, superseding the 24bit/192kHz high-resolution limitations of the mortal audiophile universe for 32bit/384kHz capability in a wide variety of audio file formats. Of course, whether you'll be able to find anything at that resolution — or be able to hear the difference — is very much up for debate. But never mind all that, this player is all about extravagance.
But, perhaps more important here are the pristine audio components the AK380 has locked inside, including a new digital audio converter (the thing that turns 1s and 0s into sound) designed to offer a "true Dual-Mono setup" for even better channel separation, a broader stereo image, and better dynamics to up the ante once again for the AK lineup.
Other features for the player include a 4-inch TFT-LCD screen (as opposed to the AK240's AMOLED display), 256GB of internal memory with up to 128GB of additional storage via microSD, and an uber-precise Parametric EQ system, all encased in a sleek body constructed from aircraft-grade aluminum.
Along with both balanced and unbalanced outputs (for a variety of headphones and direct home theater connection) the new device also complies with DLNA 1.0 to stream from compatible NAS storage drives, as well as Bluetooth 4.0 for wireless streaming — though streaming at the low resolution afforded by Bluetooth seems almost a crime for this device. Like the AK240, the player is also Wi-Fi compatible to download music wirelessly, and can also act as an external USB-connected DAC to sub for your PC's unworthy sound card. Users will also be able to stream files and control the AK380 from an iOS or Android device with a forthcoming app.
There's no doubt the AK380 is a luxe device to say the least, but for those who must have the best of everything, this is the new high-resolution portable player to beat. The AK380 will be available "soon" at an MSRP of $3,499.
A version of this post first appeared on our "brother site" Digital Trends