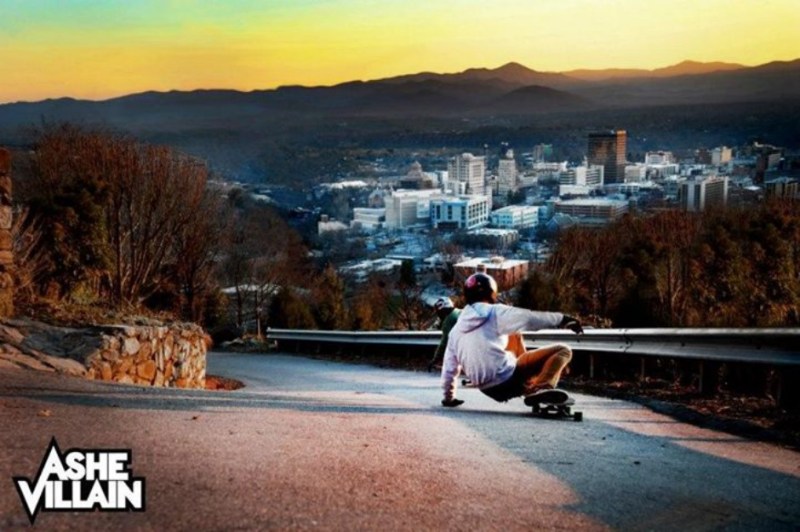 If you look at some of the big players in recreational boards (skateboards, surf boards, snowboards, etc.) the vast majority are California based, but Doug Stevens and his business partner Leslie McCullough Casse are set to make their mark on the industry with their new East Coast business called AsheVillain.
The company, just gearing up for its launch party on September 14, creates bamboo and maple skateboards and long boards. That's for starters. As they grow they plan to include all board sports into their line of products.
Based in Asheville, N.C. where it's currently illegal to skateboard on sidewalks or streets, the pair named the company AsheVillain as a nod to the city as well as a play on the current state of skateboarding. "You sort of have to be a villain to skateboard here," says Casse.
Their first line of boards will be of the naked variety—just the beauty of the wood with a single, small AsheVillain logo on one end. These special edition boards are 2-ply maple and 3-ply bamboo, a combination proven to give maximum strength and versatility.
"The Naked Series" offers four styles—a pintail, a "pool deck" board with uplifted tail, an "8.0 deck" classic skateboard, and a hybrid board.
In time, they'll add designs and even have a plan to tap into the creativity of regional artists. "The artists will each design a board for us," says Stevens. "We expect to have about 15 that will be displayed at galleries and then auctioned off. We'll then run a line of the most popular designs."
Proceeds from the auction as well as the upcoming launch party will benefit A.Skate Foundation, which gives autistic kids a chance to be part of the social world through skateboarding.
The partners are also very proud of their colored and scented skateboard wax that they produce from candle remnants supplied from area spas and restaurants. Their apparel line includes organic cotton t-shirts, snapback hats, and a variety of bumper and board stickers.
"Sustainability is extremely important to us," says Casse, " having as little impact on the earth is vitally important."
It's also a focus for them, in an age where obesity is becoming a greater risk, to get people moving.
"It's about getting outdoors, being active, being creative and inspiring others," says Stevens. "We believe life is about the ride."