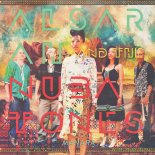 Alsarah & The Nubatones' new record, Manara, is a thrilling mix of African, Middle Eastern, and Western music. Featuring sturdy beats and a mix of African, Middle Eastern, and Western influence, the band dubs their sound "East-African Retro-Pop."
The Sudanese-born singer spent her first eight years in the country's capital of Khartoum before political strife forced her to move to Yemen and then the US, where she began studying music. After studying Ethnomusicology at Wesleyan University, Alsarah eventually moved to Brooklyn, where she currently resides.
It was in Brooklyn that Alsarah & The Nubatones came to be. Founded, as a press release describes, on the basis of a "common love for the richness of pentatonic sounds, and shared migration experiences" the band was initially comprised of Alsarah, Rami El Aasser, the late Haig Manoukian, and Mawuena Kodjovi. With Manoukian's death in late 2014 (after the release of the band's debut, Silt), his former student, Brandon Terzic, as did an additional vocalist, Nahid.
The band incorporates a host of traditions into its sound to create a lively record that crosses cultural barriers.
Alsarah & The Nubatone's Manara is out now through Wonderwheel Recordings and is available for purchase on Amazon, Bandcamp, & iTunes.