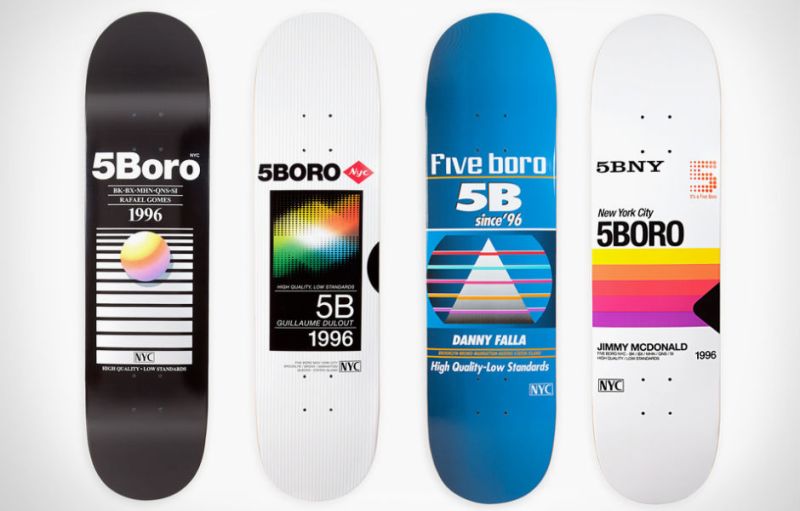 For those of you former (and current) skaters, watching skate videos was a way to master tricks, aspire to do things you can't and watch those pro skaters in awe. To most of us, VHS (that's an acronym for Video Home System) tapes are a thing of the past, thanks to the development of the Internet. Who needs all those videotapes when we can just go on YouTube?
The guys at 5BoroNYC, a skate brand that got its start in 1996, back when we were still playing VHS tapes on VCRs, apparently got nostalgic for the familiar images, so they decided to emblazon a series of skateboards with the graphics that covered the video tapes. The eight styles resemble the labels from videotape brands like Fuji, TDK, Scotch, Sony, Maxell, BASF, and Philips with their own cheeky riff designed by  Mark Nardelli, Matthew Tapia and Max Vogel Razauno. Pretty cool, if you ask us.
We're sure all you youngins may not recognize these throwback designs, but for the rest of us, they make us recall a time before we were always on our phones. Pagers were cool, the Internet was in its early years and there was no YouTube. It was all about these videotapes, which enabled us to see the pros at their best. And now, thanks to 5BoroNYC, we can skate on them too. For those of you who can't remember VHS tapes, trust us, you'll look pretty cool skating around on one of these. So when will they come out with cassette tape decks? Soon, we hope.
For more information, visit 5boronyc.myshopify.com.
Editors' Recommendations