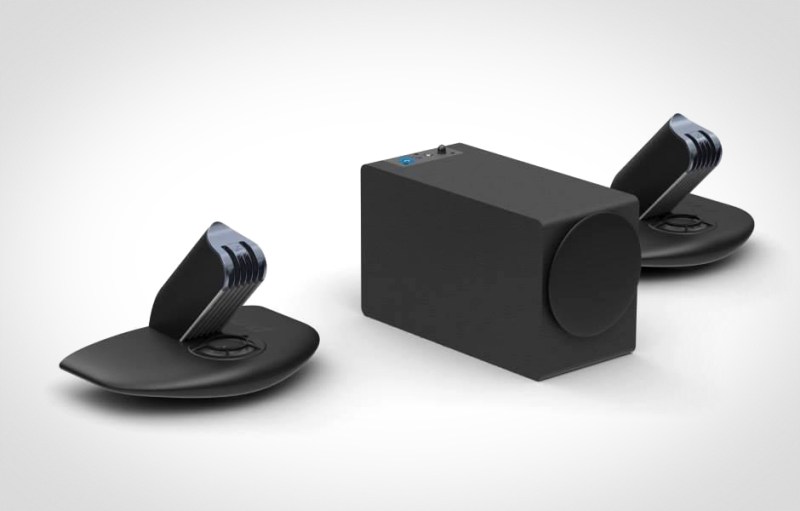 Starting today we will be posting a weekly tech story from our brother site, DigitalTrends.com.
About two years ago, we unearthed a cryptic pair of speakers from a company called Acoustic3D that promised 3-dimensional "holographic" sound that envelops the listener. We signed up for a tester program back then, and promptly forgot about their existence. Today, we received an email noting that a pair of  "the world's first acoustic hologram generator(s)" are en route to our office and should arrive in August – which means, whether they can deliver on their claims or not, it's time to take notice.
Inventor Joe Hayes claims his  AS4 2.1 speaker system can take away the coloration of the sound from the user's listening space entirely, allowing for audio to be reproduced in its original state. The radical design of the speakers looks like some sort of frequency filtration system, with tweeters that appear to be firing through a variety of metallic blades. Acoustic3D is mum about how its technology works, but claims that beyond the holographic effect, the speakers produce audiophile quality sound at a "sensible price." What that price is, we don't yet know.
The video from Acoustic3D exploring its new technology makes some bold claims. Those include the promise of a sound from its speakers that is "virtually perfect," as well as the outlandish claim that its new process of shaping sound is "undeniably the single biggest advance in acoustic technology since speakers were invented." Really? Undeniably?! That's some serious hyperbole, no matter what the sound delivers.
And although most of the interviewees seem fairly legit, the conspiracy-theory shot of the editor of Newstips Bulletin, Marty Winston, who calls the speakers "disruptive" with a bit too much vigor, gives us some pause.
The speaker system, expected to arrive on our doorstep in weeks, is absolutely gorgeous, brandishing a strikingly unique design that would look at home on the mantle of Capt. Kirk's cabin in the next Star Trek flick. Even if they fall short of their claims, the uniquely-modern styling alone may make these speakers a winner.
An email from Acoustic3D's newly appointed CEO Malcolm Duffield claims that the company has had to overcome "quite a lot of problems," and that the first batch of speakers were destroyed in a fire. Even so, Duffield claims the speakers have already won an Australian Design award. The company plans to market them in the U.S. and Australia soon, with plans for larger systems in the works, as well.
There is a heap of unanswered questions, but the Emergence 2.1 system is one of the most intriguing little systems we've encountered in recent memory. Stay tuned for a full review of these speakers once they've finally made their way to our office. If they can live up to even a portion of Acoustic3D's claims, they might just be the next big thing in small audio.
Acoustic3D Speakers from browndog on Vimeo.
Editors' Recommendations