Gentlemen, let me proudly introduce you to the 2015 Bentley Mulsanne Speed, a bespoke limousine that will melt your spine both with opulence and also acceleration. Physics, you've just met your match.
If you're not familiar, the Mulsanne is Bentley's range-topping model, built to transport the one-percent of the one-percent around in bespoke luxury and style. The Mulsanne, though quite large, is best at wafting around the world with unparalleled elegance.
Having been chauffeured in a Mulsanne, I can tell you there's nothing quite like being driven from place to place in a Mulsanne. In standard kit, it rides as if it is an island unto itself, unencumbered by gravity. Now, though, that's all about to change. The Mulsanne will no longer just shrug off gravity, it'll be shrugging off physics and – likely – your personal driver's toupee, too.
At the heart of the Mulsanne Speed is a reengineered version of Bentley's twin-turbocharged 6.75-liter V8 that now produces 530 horsepower and 811 pound-feet of torque. To put that in perspective, that's just shy of double the torque produced by the 2015 Lamborghini Huracan.
With all that power routed out to the rear wheels through a recalibrated eight-speed automatic transmission, the Mulsanne Speed will tackle 60 mph in 4.8 seconds and hit a top speed of 190 mph. Those numbers aren't mind-mashingly fast until you consider this: The Mulsanne Speed is 18.2 feet long and weighs 7,055 pounds. That's 18 inches longer than the Mercedes-Benz S-Class long wheelbase and more than twice the weight of the aforementioned Lamborghini.
So, yeah, the Mulsanne Speed is fast.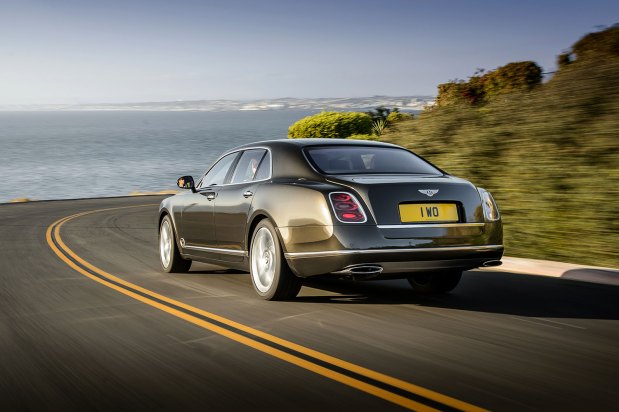 Incredibly, the Bentley boys' engineering feats don't end there. That torque monster of an engine not only generates more power than Poseidon, it's also incredibly efficient – relatively speaking. Under light loads, thanks to cylinder deactivation, the 6.75-liter will run in a V4 pattern, which saves fuel without disrupting occupants. All told, the Mulsanne Speed produces 13 percent fewer emissions than the standard Mulsanne.
And, of course, just because the Mulsanne Speed is, well, speedy, doesn't mean it doesn't still ride on a cloud. No matter the driver or occupants' moods, be they sporty or relaxed, the onboard air suspension is happy to oblige with either Sport or Comfort modes. When in Sport, the driver has the choice to also activate sport steering, which turns up feedback and accuracy.
Those fancy suspension and steering systems are pushing around some serious rims, too: 21-inch "directional" wheels, which are a first for the Bentley brand. These elegant five-spokes can be specified in painted, polished, or dark tint with machined accent finishes.
Bentley completes most of the exterior stainless steel of the Mulsanne Speed with an industry-exclusive dark finish, just like that of the wheels. The radiator grille, lower bumper grilles, and wing vents are all given this special, if slightly evil-looking treatment.
That dark, yet foreboding motif is carried inside the sumptuous cabin. Marrying contemporary power-inspired styling with the timelessness of the Mulsanne's design, Bentley includes handcrafted carbon-fiber inlays, which perfectly accent the two-tone elegance of the interior.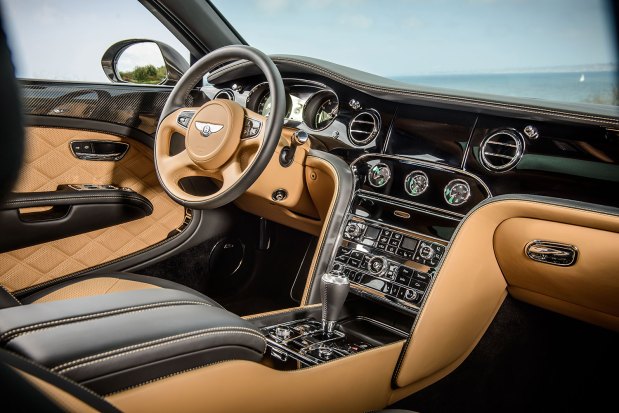 Hidden behind that masterly dashboard is suite of technology features, which would make Bill Gates blush. Rear passengers are treated to twin, eight-inch color screens mounted in the headrests of the front seats. These screens offer full access to the onboard 60GB hard drive, which can store the owner's collection of movies and music. Backing up those screens is a 14-speaker, 2,200-watt Naim audio system, which Bentley claims is, "the best in-car sound experience in the world."
Finishing off the tech suite is an onboard Wi-Fi with a dedicated router, which keeps the car constantly connected to the outside world. And should the 60 gigs worth of onboard entertainment fail to amuse, electronically-operated tables, with recesses and connections for iPads and matching keyboards, can be fitted to the back of the front seats as well.
If you're keen to get behind the wheel of the 2015 Bentley Mulsanne Speed, you're in luck, as you won't have to wait long. The long-body powerhouse will be officially unveiled at the Paris Motor Show on October 2 and will enter Bentley showrooms, ready for customer delivery, this winter.
Editors' Recommendations