Let's say you're building your ideal Man Cave. You've found the perfect TV, comfy chairs and posters are on the wall. All that's missing is some kind of game table to round it out.
Sure, you could go with a standard green table for ping-pong and billiards, but you'd be like everyone else. So, the team at 11 Ravens would like to offer an alternative: the Avettore.
As Lead Designer Bernard Semerdjian puts it, "(The table) is meant to look like its moving, even though it's standing still." He compares it to the sleek style of a jet plane and we'd have to agree.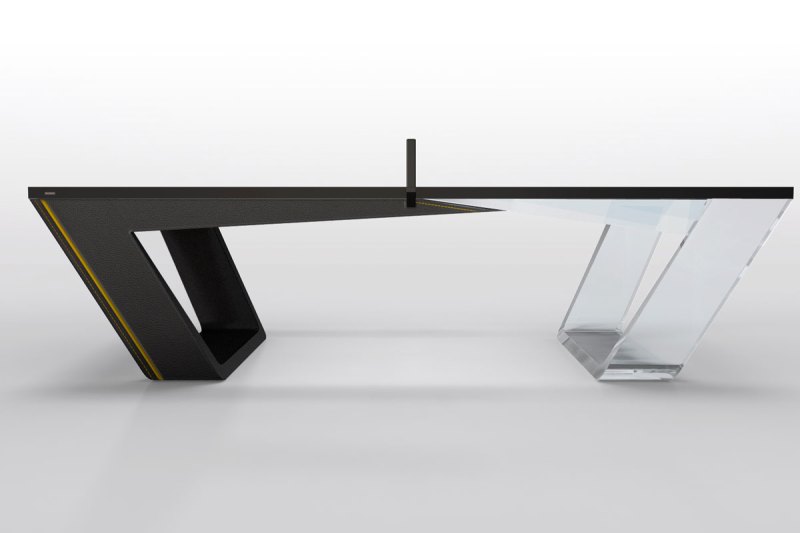 The surface of the table is Lucite, while leather accents the uncolored legs on half of its base. The entire piece blends together seamlessly with a slide-out panel for paddles and balls tucked just beneath the surface. "We wanted to introduce a modern aesthetic into this game we all love," he says. "We wanted to improve on the 'backyard' design seen everywhere." They've done that, while keeping the ping pong table regulation size: 30 inches high and 9ft long x 5ft wide.
Semerdjian says that the initial concept started with those regulation dimensions. "It grounded us, so we could push the limits with other aspects, like the playing surface," he added. The Avettore also takes notes from its less modern brethren, while maintaining an industrial feel.
11 Ravens offers a completely customizable build process, so each table is unique. The company can also add a flat top for regular table use or even a felt insert for billiards. They also have similar designs in the pipeline for blackjack, poker and shuffleboard setups.
Starting at $26,000, the Avettore is more of a statement art piece that just so happens to have ping-pong included with the price of admission. You can start your own custom build here.