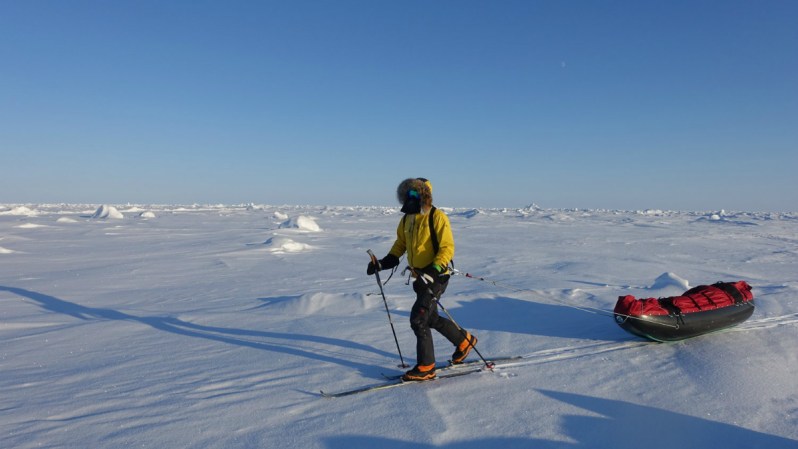 People can spend a lifetime hiking the highest mountain peaks in the United States. Some complete them all. For most, it's just a hobby. For Colin O'Brady, it's about speed. O'Brady wants to complete a climb of the 50 highest peaks in the United States, conquering each of the highest in every state — all in just 30 days.
A Kerosene-Soaked Jump Rope in Thailand
On a trip to Thailand in 2008, Colin was playing a friendly game of jump rope on the beach. Except that jump rope was soaked in kerosene. And lit on fire. Intentionally. All fun and games right?
The problem came when the rope wrapped around Colin's legs, sprayed him with excess kerosene up to his neck and lit him on fire. He managed to get to the water to douse the flames, but not before the fire burned 25 percent of his body, with third-degree burns over almost the entirety of his legs.
Doctors said he would never walk normally again.
Colin didn't agree with that. He went on to fully recover. And, not only did he recover, but he followed that recovery with a triathlon. And then two. Now, 50 triathlons later, with everything from Sprint to Ironman distances, O'Brady has retired from racing to focus on even bigger challenges, like the Explorers Grand Slam.
A particularly unique and grueling challenge, the Explorers Grand Slam involves climbing the Seven Summits or all the tallest mountains on each continent (yes, like Mount Everest) in addition to skiing to both the north and the south poles.
After retiring from triathlons Colin starting speaking with elementary schools about setting big goals. Sometimes those goals even sound impossible like the Explorers Grand Slam. Now he needed to accomplish his own goal. Creating the BEYOND 7/2 project with his fiance with the goal of accomplishing the Explorers Grand Slam in under the previous record of 192 days
Colin not only completed the Explorers Grand Slam but did it in record time: 139 days for both poles and all seven summits. That's some crazy endurance.
And now O'Brady is back for another world record attempt. This time it's in your state. And you can help.
Climbing 50 Mountains in 30 Days
The 50 Highest Points are composed of the tallest mountain from each of the 50 United States. Only 273 people have ever completed the challenge that only began in earnest in 1966. So, of course, Colin is tackling the 50 Highest Points in his own style by attempting to crush the previous speed record.
Forty-one days is the current record for climbing and hiking all 50 of the tallest peaks in the U.S., including those in Alaska and Hawaii. Not happy with just aiming for 40 days, Colin and his team will attempt to complete the monumental task in just 30.
Here's how you can help:
O'Brady's journey began June 27 when with the summit of Denali in Alaska. Join Colin on the trail in your state and cheer him on. You can hike or run a mile with him, or just give a high-five at the trailhead.
You can follow along on the 50 Highest Points website and his Instagram. He's going to need all the high-fives he can get to complete this one.
Article originally published June 12, 2018. Last updated July 9, 2018.
Editors' Recommendations