If you've been to a cocktail bar lately, chances are you've come across yuzu and, while it sounds perfectly cocktail-ready, you don't know what the hell it is. The good thing is, though, we sat down with bartending rockstar Johnny Swet of The Skylark in New York City to give us the lowdown on this delicious citrus.
Before we get to his thoughts, though, we'll give you a quick rundown.
What Exactly is Yuzu?
Yuzu, otherwise known as citrus junos, is a citrus fruit that was originally found in the wild in China and Tibet. It was then introduced to Korea and Japan during the Tang Dynasty (618-907 CE), where the majority of the fruit is now grown. It has the appearance of a small grapefruit and typically ranges from yellow to orange in color when ripe. They can grow to be from about 2.1 inches to 2.9 inches in diameter.
And now, Johnny Swet.
How would you describe Yuzu?
That's tough. It's kind of like if you combined a lemon with a tangerine and a lime.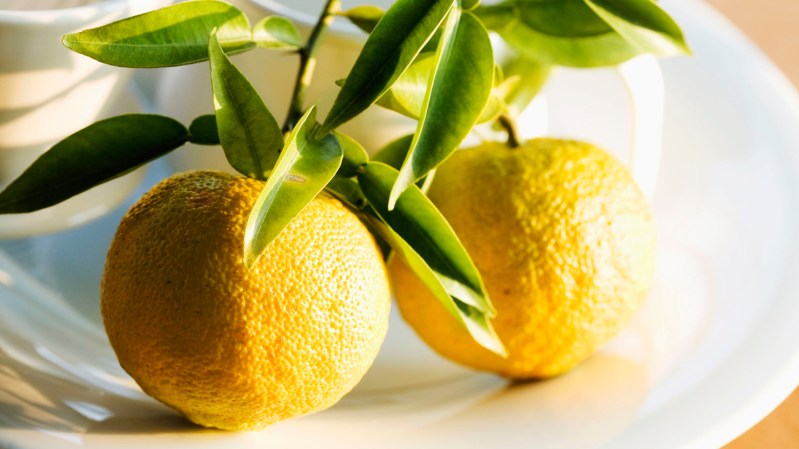 When was the first time you heard about it?

I've known about Yuzu for a while now. Most of my good buddies are chefs, and I'm a big sushi fan. They've really exposed me to it at some cool Japanese restaurants. Because of that, I started playing with yuzu by using it instead of lemon juice in cocktails.
It seems to be popping up in more and more cocktails lately. Why do you think that is?
I think that Yuzu has such a bright, fresh flavor and so makes it a natural fit for cocktails. Also, with the rise in popularity of Japanese Whiskies, a lot of mixologists are exploring Japanese ingredients.
What sorts of spirits benefit from the addition of it the most?
Really any spirit you would pair with citrus, but I prefer it with scotch or whiskey in a sour.
Is there any territory cocktail-wise that might still benefit from this fruit?
It would be nice to see some mezcal cocktails or even a reworked classic like The Last Word*, replacing the lime juice with the yuzu.
What's the best cocktail you've created that involves yuzu?
I made a cocktail called "The Geisha." It combined gin, sake, yuzu, cherry liquor, and cinnamon. It was so perfectly balanced. The Yuzu cut the sweetness and made for a really delicious sipper!
Who are the bartenders you know of that are using yuzu the best?
I think the guys at Slowly Shirley here in New York City have a really amazing cocktail using the fruit called "The Bering Strait."**
* The Last Word (original recipe)
1 part gin
1 part green chartreuse
1 part Maraschino liqueur
1 part lime juice
Method: Shake with ice and strain into a cocktail glass. Garnish with lime.
The Bering Strait pictured above
1.5 oz sparkling Nigori
1 oz mezcal
.75 oz piña
.5 oz Campo de Encanto pisco
.5 oz Kiuchi
.25 oz yuzu
.25 oz ginger
1 tsp agave
Method: Stir. Add 1 oz soda. Strain into a wine glass over ice and garnish with ginger and pineapple.
Happy drinking!
Editors' Recommendations