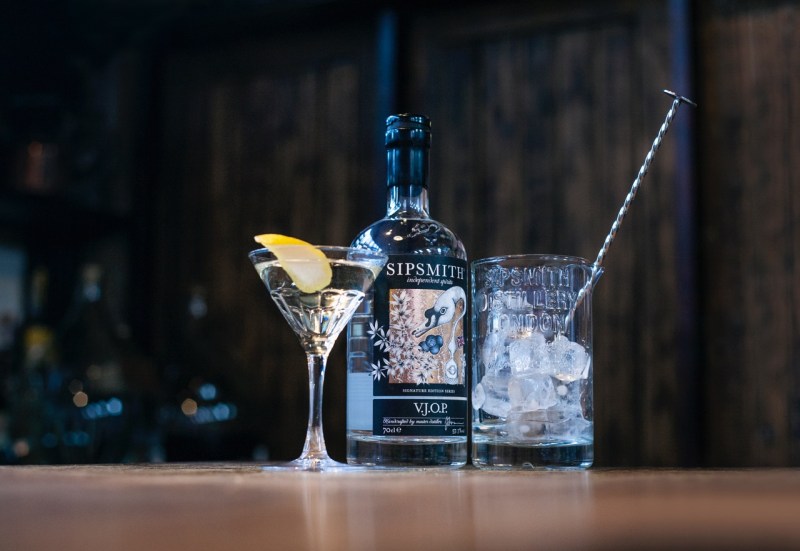 As an historian, chef, and distiller, Sipsmith Spirit's Master Distiller, Jared Brown, knows a thing or two about gin. Having been distilling since a very young age, he's practically seen and done it all. It's because of this wealth of experience that he realized something was missing from the spirits world—a gin that encompasses all three different ways one can make gin.
In short, you can make gin by macerating the botanicals—giving the botanicals a long, slow cook—or you can load the still with spirit and botanicals then run the distillation right away. A third option, according to Brown, is that you can put the botanicals in a basket at the top of the still and have the vapors push through it on their way through the system.
"There was this epiphany moment for me," Brown said. "There was not a gin in the history of gins that contained all three. I saw this as the way to make the penultimate gin.
Thus began the process of creating what would become Sipsmith's Very Junipery Over Proof (V.J.O.P.).
"I quickly understood why no one had done this before. Making gin is like conducting an orchestra. One brass, one woodwind, one percussion— these are the botanicals. This [gin] is the first time there were three violins," Brown said. "I had to train my palate to find the nuances in each to ring them in together and find the balance."
Related: You're Missing Out If You're Not Drinking These 5 Gins
After some initial tests, there was a product to work with.
"I could've stopped there—it's a novelty product at that point." The other option, according to Brown, was to just distill each method separately and blend them.
"I want to quote the Western music group Riders in the Sky here—'That'd be the easy way, but it wouldn't be the cowboy way.'"
Brown continued to experiment, until a mentor told him that it was perfect except for one thing—he needed to bump the ABV up to suppress the spikes in the juniper flavors.
"When it went over proof, all of the puzzle pieces fell into place."
For gin lovers, this is the epitome of gin. Bottled at 57.7% (and surprisingly smooth for the proof), you're going to find pretty intense juniper on the nose, the palate and the finish. At the onset, you'll also catch whiffs of pine and some citrus as well. Upon sipping it, a bold, rich spiciness will come through. The finish sticks around, warming the gums and the tongue, giving you one last burst of juniper.
Again, if you love gin, you need to find a bottle of this immediately. You can currently find it here for $60 plus shipping.
(Photos courtesy of Alessandro Perottoni, Sipsmith)