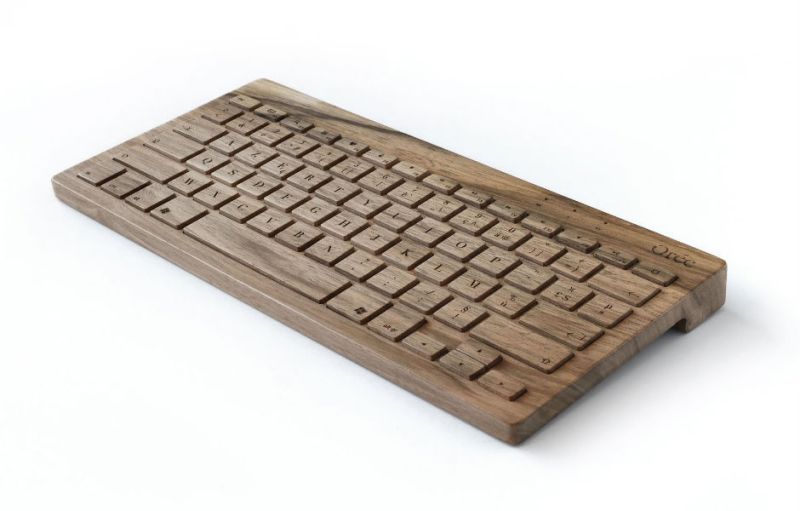 As far as keyboards are concerned, for the most part, they aren't considered design objects. creative technology entrepreneur Julien Salanave and product designer Franck Fontana set out to change that with Orée, which actually stems from an acronym that stands for Original, Rational, Elegant, Engaged. "We set out to do something different: create elegant, durable & personal high performance technology objects primarily crafted from the finest natural materials," reads Orée's website.
They conceived of a wireless keyboard created solely from a piece of premium walnut wood or maple wood, and for a limited time, wild cherry, that looks as good as it feels. We discovered that wood was the perfect material for creating lasting and personal eco-friendly connected objects," said Salanave. It connects simultaneously with five different devices, whether you want a keyboard for your iPhone, desktop, television, laptop or tablet. The Orée keyboard can even be designed to work with 15 different keyboard styles from various places, including France, Japan, the United States, Sweden, Norway and Canada. You can even customize it with four different styles of keyboard fonts. Plus, you get quality craftsmanship.  "Each Board is polished, oil-rubbed and assembled by hand in our workshop to offer a genuine & perfect finish," reads Orée's website.
It's also built to last; three triple A batteries can power the keyboard for several months, and the wood is coated with a varnish meant to protect it from finger oil, stains and water spills. Orée recently released a smartphone charger, so we bet we can expect to see a lot more from this company in the future. So, if you're looking for a gift that is unique and well-designed for your tech-savvy friends, this could be a good fit.
For more information, visit oreedesign.com.
Editors' Recommendations