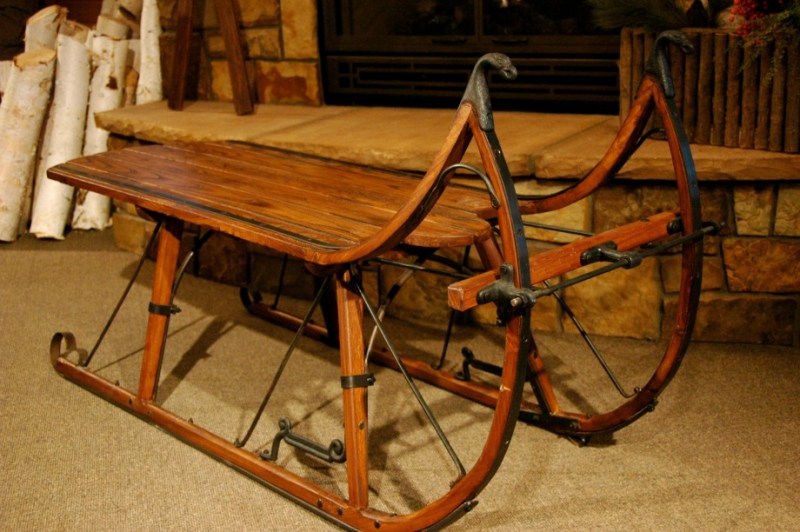 Vintage winter sports items will always be in-style. No matter how advanced the technology and materials become to make snowboards and skis lighter and more aerodynamic; no matter how much ski destinations start to resemble amusement parks, there is something appealing about an old pair of solid, wood skis, or a warm, rustic lodge.
The founders of Vintage Winter, Nick Thomas and Jeff Hume, certainly feel that way. The two met in Colorado in 2003 and quickly bonded over their shared love of winter sports. The friends then traveled to antique shows in some of the finest ski towns in America gathering pieces that they admired. After weathering the difficulties of the recession and other life changes, Jeff and Nick launched their retail website Vintage Winter earlier this year. Their pieces have been sourced by Ralph Lauren and used by J. Crew for a catalog cover shoot.
Both Thomas and Hume worked with wood their entire lives—Thomas as a child ripping slabs of maple that were later used on high-end violins and violas, and Hume with his mother's antique business in Minnesota. They create each of their products in one of their three workshops, either from sourced antiques in the U.S. and Europe or from recycled wood taken from barns that they have personally dismantled. That includes each of the items in their Vintage Winter Original Collection, which are all on sale now.
Two standout pieces from the Original Collection are the Ski Chairlift bench and Eagle Head Albany Cutter Sleigh table. The bench is constructed from an aged ash wood seat and a curved metal back. Thomas explains that the item was inspired by the "old riblet center pole chair lift" on Mt. Ashland in Oregon, where his love of antique outdoor gear started. He scraped flakes of red paint off the lift, had the paint matched and used it on their own creation to make it as authentic as possible.
The original Sleigh table was made from deconstructed 19th century sleighs that were then joined by one hundred year old recycled barn wood. Since, as Thomas says, "antique sleights from the 19th century are not easy to find," he and Hume have been hand-making subsequent pieces using steam-bent runners, hand forged iron and quality hardwoods.
Technology may move forward, but many of us, like Thomas and Hume, use the winter and winter sports as a way to look back.
Editors' Recommendations