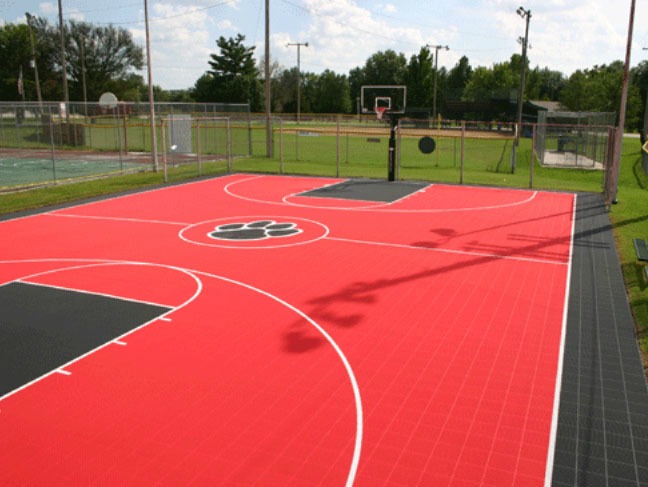 The backyard basketball court has long been the domain of hot and cracking concrete; however, VersaCourt is looking to change that fact completely.
The company, based out of Missouri, uses the most advanced engineering technology available on the market today in order to create their modular playing surface tiles that can be easily locked together to create a backyard basketball or tennis court. The tiles retain about half as much heat as standard asphalt and are better at absorbing shock than a typical concrete court, thus reducing the amount of impact being placed upon your back and joints during the average game of basketball or tennis. That fact is important because—according to the company's president and CEO, Danny Little—VersaCourt's goal is to provide "a surface that combines incredible performance with comfort and safety."
Perhaps VersaCourt's most clever innovation is the court designer featured on their website. Anybody can customize their own playing surface to fit his or her spatial needs. Also, VersaCourt isn't only tailored for the residential market—their tile technology can easily be used at any public space, hotel or resort. So, for those of you in the urban planning, hotel management, or public works fields, the VersaCourt online interactive designer is certainly something you should consider playing around with.
However, VersaCourt isn't simply for playing surfaces. If you are living with more of a budget, it can just as easily be used to line the floor of a garage or basement. The vertical give in VersaCourt's tiles aids in decreasing the strain on your back and knees after long periods spent standing upright on concrete. This makes life easier for those of us who spend a good deal of our time in our workshops—whether in the city or the suburbs.
VersaCourt's court and surface designer is free to use, so give it a shot today. You may find that a change of surface is in your future.
Image courtesy of VersaCourt. Call VersaCourt at 1-800-875-2335 for quotes on all court and surface designs.