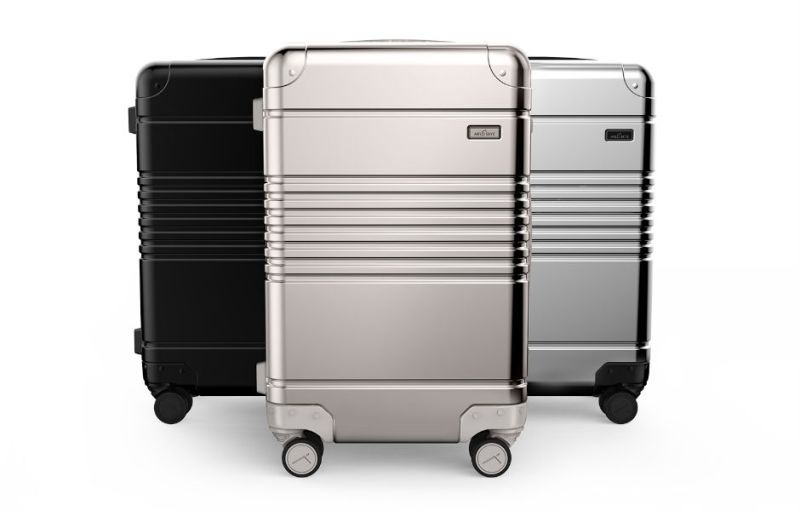 If you've traveled with a carry-on, you know how important it is to find the right one. Flimsy ones can leave you with your clothes splayed out all over the place at the airport. Ones that are too heavy might put you over the weight limit if you fly an airline that puts weight limits on carry ons. Also, the right price point is very important. If you're going to pay a lot for a suitcase, you'll want to make sure it won't crack in a year's time, especially if you're always traveling. The folks at Arlo Skye came up with a suitcase that's stylish, sleek and functional.
Made of 7 micron anodized aluminum magnesium alloy, the Arlow Skye carry-on comes in three colorways: penguin black, sardine silver, or champagne. It weighs only 9.2 pounds, full-grain leather handles, integrated TSA locks, anti-microbial, high density lining, silent run Lisof wheels, and it holds 32 liters. Designed in New York, and assembled in China, the carry-on will go with you wherever you bring it. Plus, you get more than just a suitcase. Included are two removable compression, packing panels, one laundry bag, a set of notecards featuring the Art of Daydreaming series by James Magnusson, one portable charger with a charging cable, two shoe bags, and one full-grain leather name tag.  
The design team behind the Arlo Skye carry-on took to the sky for inspiration, thinking about stargazing, pondering, and dreaming. They say, "if you're going to get lost in the clouds, you might as well do it with elegance." With the Arlo Skye carry-on, you can do that and much more.

The Arlo Skye Carry-on, $500 at arloskye.com.