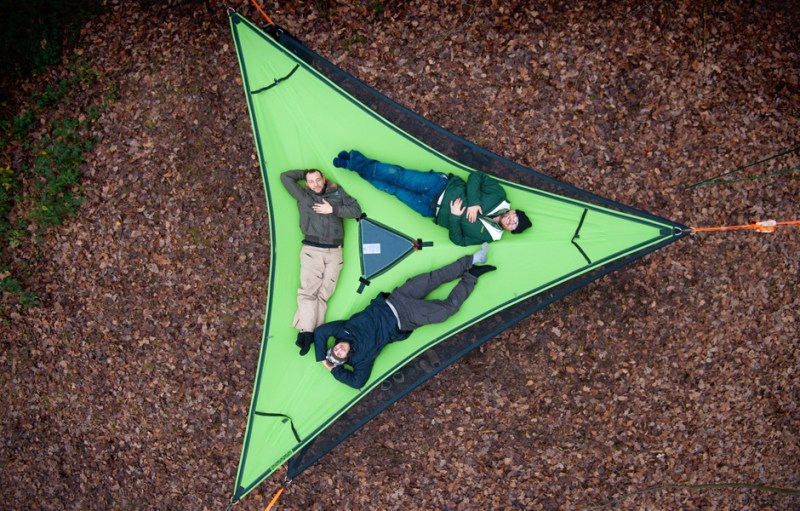 Man isn't meant to stay indoors — our weekly "Trekking" column can attest to that. It's a column dedicated to the adventurer inside of all of us, the one pining to ditch the office humdrum for a quick surf session or seven-week jaunt in the Grand Tetons. One day we may highlight an ultra-light stove and the next a set of handmade canoe paddles. Life doesn't just happen inside the workplace, so get outside and live it.
We've mentioned a multitude of camping hammocks before — and for good reason. Unlike the traditional tent setup of yesteryear, the high-flying counterparts offer an unparalleled field of vision from above, granting you 360-degree views while lofting your body as high as you'd like above the cold ground below. That said, most modern hammocks don't accommodate up to 880 pounds and provide more than 80 square feet of surface area quite like the Tentsile Trillium Hammock ($250) does, nor do they tout the attractive aesthetics of the lightweight Flite Tree Tent ($350).
Related: Get high with the Amok Draumr 2.0 hammock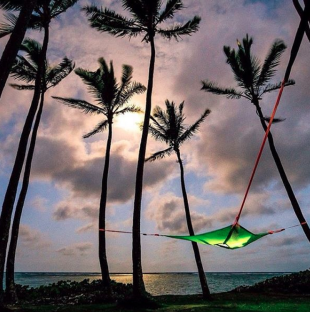 Robust surface area and is only one part of the equation, too, at least when it comes to the Trillium Hammock. You can easily stack multiple hammocks atop one another to create simple, multistory sleeping complexes in nature, allowing for additional room for fellow campers and supplying ample space for stowing muddied gear, extra equipment, or maybe a canine companion. The heavy-duty mesh lining is comfortable, too, supported by more than 20 meters of seatbelt and reinforced via a host of rugged ratchets and 35-millimeter webbing that plays into the hammock's stability when erected in the woods or an otherwise suitable area.
The Trillium Hammock also can be used in conjunction with Tentsile's Stingray ($650) and Vista ($550) tents, if you're in need of another floor or want to situate an extra layer of insulation directly beneath you. And if you're looking for a two-person offering, the aforementioned Flite will provide you with enough room for two, along with a tear-resistant mesh roof, removable rain fly, and a single ratchet for suspending the tree tent even in the densest of forests. The 10-minute setup process just renders the Flite an even better alternative to any traditional dwelling in your camping arsenal — that is, so long as you you're not afraid of heights.
Check out Tentsile online to purchase the Trillium Hammock, or to browse the London-based company's superb selection of tree tents and accompanying bundles.
Editors' Recommendations