To start, or not to start? That is the question. Week 8 in the NFL kicks off tonight, and we're here to help you build your winning roster.
Start Him: Tampa Bay QB, Jameis Winston
So you're probably scratching your head on this one, but think twice about it. After the embarrassing four interceptions he threw against Carolina, Winston has been solid. He's thrown for a combined 500 yards and three touchdowns in his past two games. His efficiency is up as well. Winston completed 70% of his passes in those games with no interceptions and had a QB rating over 120. It's on the road against the Falcons which might prove difficult, but it just seems like he's starting to take strides towards being a reliable quarterback for the Bucs.
Sit Him: Broncos QB, Peyton Manning
Manning just hasn't been the same fantasy quarterback like he has been in years past. He has thrown 7 interceptions in his last three games, and that has become a cause for concern for fantasy owners. The Broncos are taking on the Packers, and they have been stout against opposing quarterbacks. It's a phrase that doesn't really roll off the tongue all that well, but you should probably sit Peyton Manning.
Start Him: Arizona RB, Chris Johnson
Johnson was once a 2,000 yard rusher in 2009 with the Tennessee Titans, and then he fell completely off the map. Now, he's back with the Cardinals and showing off that forty speed that we were all accustomed to. He side-stepped the Ravens' defense on his way to 122 yards on the ground and a touchdown in week 7. This week, Johnson faces a Cleveland Browns' defense that allows a dismal 5 yards per carry. The Browns have also given up the most fantasy points to running backs this season which makes Johnson a safe choice as a starter.
Sit Them: Cincinnati RBs, Jeremy Hill and Giovanni Bernard
These guys make up what is arguably the best running back tandem in the NFL. The Bengals are undefeated, and Bernard and Hill are a big reason why. But, like most say, you've got to throw the stats out of the equation when it's a rivalry game. The Bengals are making the short trip to Heinz Field to take on a Steelers defense that has not allowed a rushing touchdown on their home field this season. Don't expect that to change this weekend.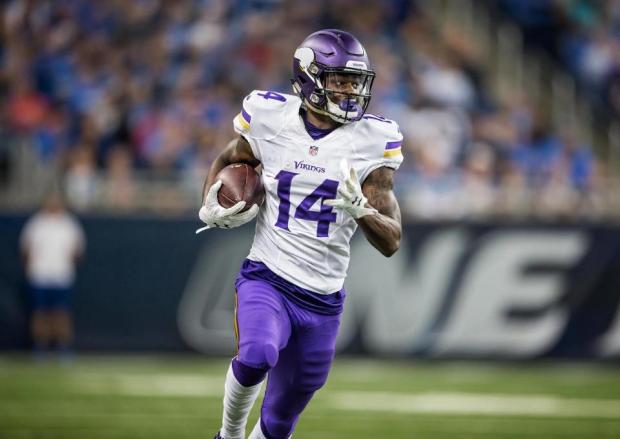 Start Him: Vikings WR, Stefon Diggs
Diggs made his first appearance in early October, and he has been a threat ever since for the Vikings. He's caught 19 passes for 324 yards in just three games, and he's due for another big game this weekend against the Bears. He might be Teddy Bridgewater's new favorite target, and that's enough reason to give him the nod this week.
Sit Him: Raiders WR, Amari Cooper
The former Biletnikoff Award winner showed why he is such a threat to any secondary last week against the Chargers. He had 133 yards receiving to go along with one touchdown grab in week 7, but don't fall for him yet. There is one name in particular that can shut him down, and that's Darrelle Revis. Revis Island is still alive and well, and Cooper might find himself stuck on it against the Jets.
Start Him: Bengals TE, Tyler Eifert
Eifert has been one of the biggest surprises this season in fantasy. He has consistently been a threat in the passing game, so expect the same this weekend against the Steelers who have had troubles covering tight ends. Cincinnati quarterback, Andy Dalton, has put up MVP numbers, and will need Eifert to be a reliable target in the red zone on Sunday.
Sit Him: Seahawks TE, Jimmy Graham
Graham hasn't really been an integral part of the Seahawks offense this season. He has failed to get the amount of touches that fantasy owners were expecting out of him. The Seahawks play Dallas this weekend, and the game will likely be dominated by the running backs. Expect another low-impact game for Graham in week 8.
Check back with us every Thursday for your fantasy football insight.
Photo Credit: Rick Scuteri/AP
Editors' Recommendations