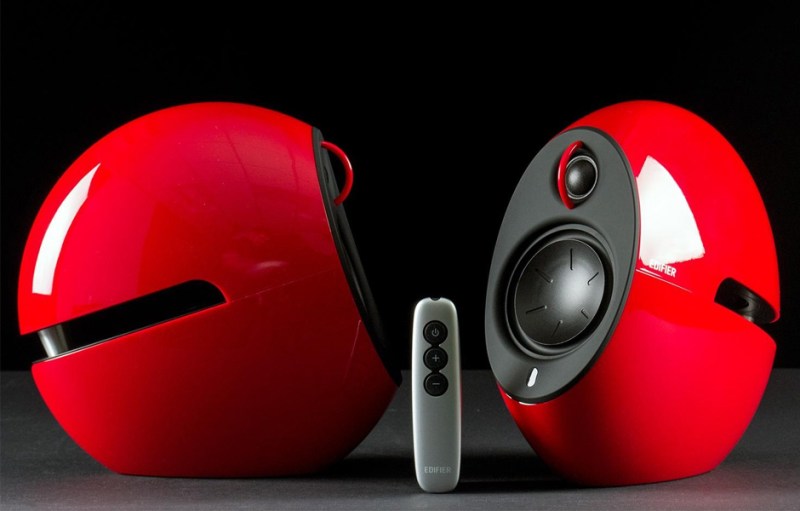 When it comes to purchasing a new set of speakers to spiff up your desktop, office or study, it's hard to find something that looks as good as it sounds (or vice versa) and won't ransack your wallet. At least it was; then Edifier came along with a highly modern-looking set of speakers that should not only catch some eyes, but bend some ears as well. Meet the Edifier E25 Luna Eclipse.
From the moment you pull these gleaming speakers from their cloth sacks, you're awash in a glossy sheen of modern design. The bulbous shells look vaguely like motorcycle helmets pulled from some Daft Punk/Tron video. Whether you've opted for sports car-red, gloss white, or the classic black color scheme, this pair pops. Connection options include a 3.5mm Aux input and Bluetooth for wireless audio. The speakers come with a connection cable and a remote control, just in case you get tired of playing around with it's nearly invisible touch-capacitive buttons.
As for the sound quality, the Luna are pushed by a total of 74 watts – plenty of power for such a compact setup – and believe us when we say: these babies pump out a lot of sound for their size. The midrange and treble is lively and rife with detail, spinning clean and clear and digging deep into sonic details. The Luna hold their own pretty well in the low end too, delving into the bass with some respectable authority. And the best part is, you'll only need to throw down $200 for the pair. At that price, the Luna Eclipse are practically a steal.