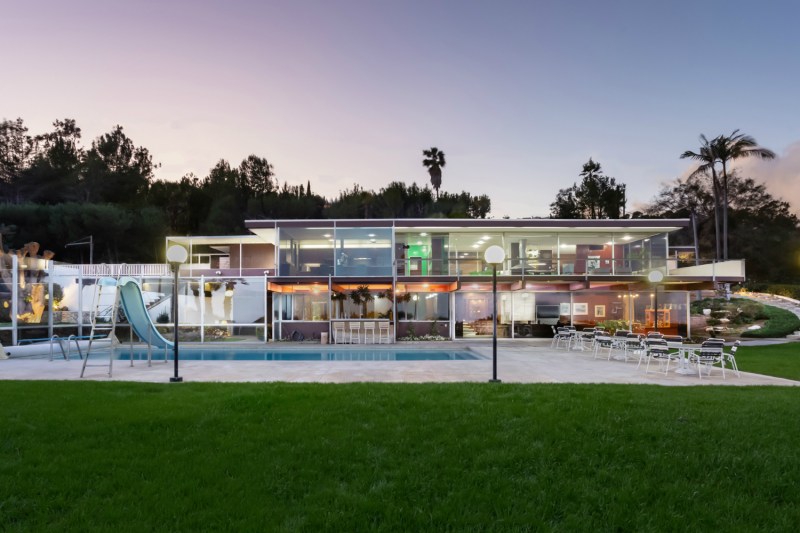 We love a good mid-century modern home. Simple lines, open floor plans, and a visual connection to nature keep these dwellings feeling timeless. There has been increased interest in the style in recent years, with new homes being built in a mid-century revival theme. But nothing beats an authentic mid-century, especially when it comes with a famous name attached to it. That's why we are so excited about Rados House. The 5,000-plus-square-foot home designed by architect Richard Neutra has hit the market and it has been perfectly preserved, proudly showing off its mid-century swagger.
Located high in the hills of Rancho Palos Verdes, California, Rados House is currently listed for over $4,000,000 and for good reason. Created for shipbuilder John Rados, the home offers a 270-degree view of the Los Angeles basin and harbor, which allowed Rados to keep an eye on his empire from the comfort of his spacious abode.
Unlike other architects of the mid-century modern period, Neutra stands out for his lack of a clearly defined "look." While other architects' designs are easy to spot, like the iconic Eichlers all around California, Neutra's homes were client-specific. While his designs may be hard to spot visually, they all adhere to the mid-century philosophy of open spaces, plenty of natural light, and a strong connection between indoors and out.
At over 5,000-square-feet, Rados House is one of the largest homes ever built by Neutra. Sitting on 1.47 acres, the two-story home sprawls out across the land, offering impressive views of the basin as well as the San Gabriel and San Jacinto Mountains. Outside, walls of glass face an oversized swimming pool and patio. The low, flat roofline allows the home to visually blend with the line of trees in the back. The color palette of the home was kept neutral, inspired by nature, but with pops of Kelly green sprinkled throughout. These color pops can be seen from the outside and appear to make the home glow in the evening.
Inside, Rados House is perfectly preserved with original details around every corner. Nods to Rados' career were cleverly included into the design, like the marine-grade mahogany wood (typically reserved for yachts) used as the ceiling support beams. Neutra even "borrowed" an old ship door and porthole to use in one corner of the home. Along with these boat-inspired details, classic mid-century modern features abound. Terrazzo flooring, a floating staircase, built-in seating, and floor-to-ceiling windows in every room are just a few of the original parts of the home that were lovingly maintained since it was erected in 1957. One of the coolest parts of the home is the round fireplace that acts as a visual divider for the second-floor family room. Set into the floor, the fireplace is capped by a chrome-covered chimney that would have been futuristic back in the '60s, but now feels whimsically retro. Along with the main family room, the home also features an additional family room and lounge on the lower level. Overlooking the pool, this space has a stone-clad fireplace, two seating areas, and a full bar.
Along with the two family rooms and a full bar, the home also includes three bedrooms, four bathrooms, a large gourmet kitchen, and two dining rooms. Plus there is a grilling station outside next to the pool. It's the ultimate swagger-filled bachelor pad, perfect for hosting a Don Draper-worthy bash. And when it's all done, you can relax in the sunken hot tub in the master suite. Like we said, Rados House is worth the $4,000,000 price tag.
Looking for something a little more up to date? Check out Riviera Residence and how it has brought mid-century modern style into the 21st Century.
Editors' Recommendations