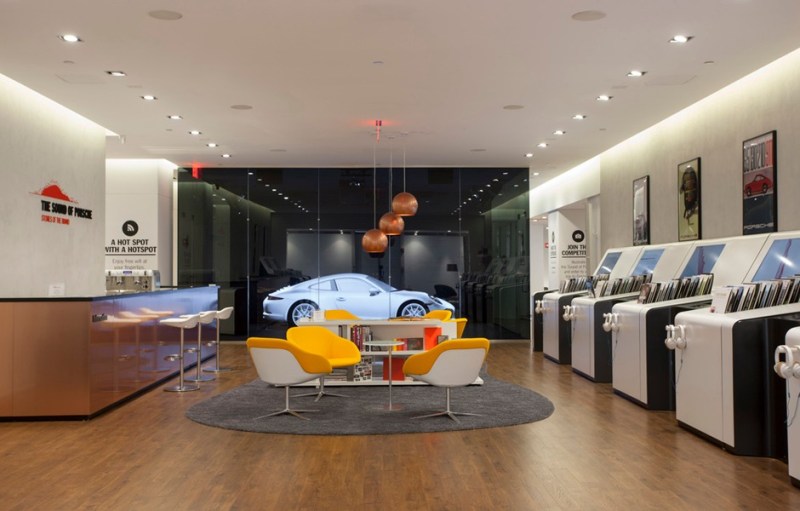 What makes a Porsche? Is it status, the killer lines of the classic Boxster, the inimitable sound of one accelerating on the open highway, or simply the dream of owning one and living the lifestyle?
Open through Oct. 5, Porsche's brand experience pop-up—the first of its kind in the US—located in New York City's Meatpacking District suggests it's the sum of all parts while going down as smooth as the 2015 Macan S, Panamera S E-Hybrid and Cayman GTS parked outside. Divided into three areas, the interior event space aims to immerse visitors in the brand's heritage. In the front, there's a listening lounge where visitors can lay down LPs on to digital stations that play back (over slick Bose QuietComfort 25 over-ear headphones, no less) miscellaneous short audio stories about the brand from the likes of actor-racer Patrick Dempsey and Porsche collector Magnus Walker to Porsche's top engineers.
If time is of the essence, however, we suggest heading straight to the Sound Lab Virtual Drive Experience powered by Bose, which simulates 90-second drives in the open country, South Beach and race track at Nurburgring, with moving landscapes projected on to a 911 Carrera Cabriolet so you feel like you're right there for the ride. (Folks at the pop-up confirmed with us that you won't actually be able to take on-site models for a test-drive, but if you've never been in a Porsche and want to sit in one, you can ask the three product specialists on hand to help.) We should also mention there's a fun chalk wall in the rear of the store, where visitors are invited to draw their own interpretations of the sound of Porsche, photograph, and upload their designs to social media with the hashtag #soundofporsche.
The winner of the contest will receive a trip of a lifetime to the Porsche Museum in Stuttgart, Germany. That sounds pretty perfect to us.
446 West 14th Street, open 10-6 daily.
Editors' Recommendations