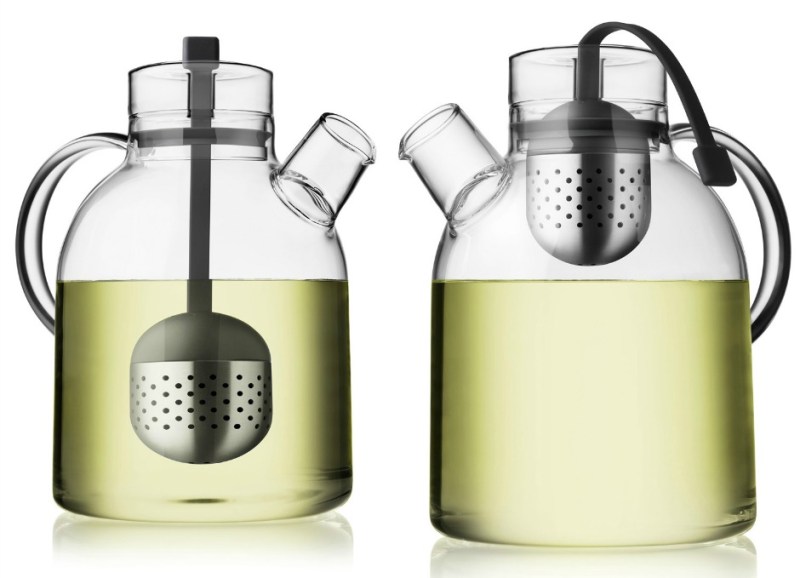 Design buffs, here's a teapot for you. "Simple Japanese lines meet functional Nordic design" — that's the tagline that the Danish design company Menu uses when describing their teapot by Danish architectural firm Norm. The kettle is indeed a meeting of two different cultures, with its Zen approach to brewing tea mixed in with clean and functional Scandinavian aesthetic.
Simply pour boiling water into the tempered glass teapot. Then, fill the stainless steel egg with whichever tea of your choice — green, rooibos or chamomile  — lower the egg into the water and let it steep, which, by the way looks pretty cool if you ask us. When the tea is just to your liking simply raise the egg with the attached silicon string. There you have it — a pot of tea that looks as good as it is for you. No need for sloppy teabags or dripping tea filters, it's all about sleek design with this teakettle.
These days most nutritionists are saying that we should substitute tea for coffee, so we might as well do it in a stylish manner, right? We'll definitely brew tea on a daily basis when our Menu teapot comes in. A team of architects strategically designed this awesome teapot, so we know that it has to be good way to brew tea. Now if we only thought about it sooner, we would have bought one for Mother's Day. Then again, there's always next year.
Menu Teapot by Norm, $59.95 at amazon.com. 
Editors' Recommendations