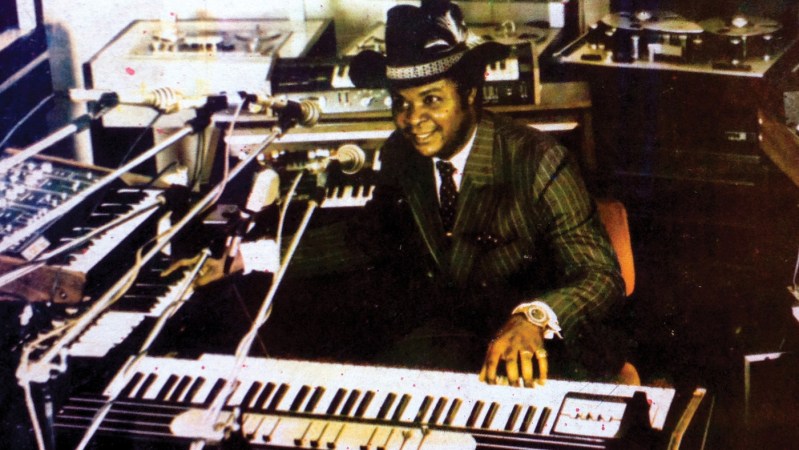 A brief disclaimer: today's edition of New Music Monday is using a liberal definition of the word "new." William Onyeabor first began releasing music in 1977 with his album Crashes in Love, a soundtrack to his film of the same name. He released seven further records before becoming a born-again Christian and withdrawing to his hometown of Enugu, Nigeria where he refused to speak about the music he had created.
Since his withdrawal from public life the myth surrounding Onyeabor has grown immensely. Rumors stretch from the mundane—he may own a flour mill in Enugu—to the extraordinary—he also may have gone to film school in the Soviet Union during the 1970s. Aside from the release dates of his records, there were few facts available Luaka Bop began investigating the possible release of Onyeabor's music in the United States.
It took five years before the label was able to release any of Onyeabor's music. Lukas Bop's compilation, World Psychedelic Classics Volume 5: Who Is William Onyeabor?, came out in 2013. The album was a success and even spawned a brief tour featuring Onyeabor's music performed by professional musicians who were also fans, including label owner David Byrne, Sinkane, and Money Mark.
Following the success of Who Is William Onyeabor?, Luaka Bop released a second collection of Onyeabor's music late last year, simply titled Box Set. The set contains nine albums of Onyeabor's synth-heavy funk, the eight that he released plus a second mix of his first record.
Nine albums is a lot of music to listen to, but the Onyeabor box set is worth it. The records only run about four tracks each with the songs clocking in at about 6 minutes on average. The longest, "When the Going Is Smooth & Good" is almost 13 minutes long. Giving prominence to synthesizers and drum machines, the music is very much of its era. The songs find their groove early and hold on to it. Similarly, Luaka Bop's Box Set collection is worth picking up early and holding onto. Onyeabor's music is Something You'll Never Forget.
Luaka Bop's Box Sets are available through the label's online store and Amazon, but not via iTunes as no digital-only version is available.
Editors' Recommendations