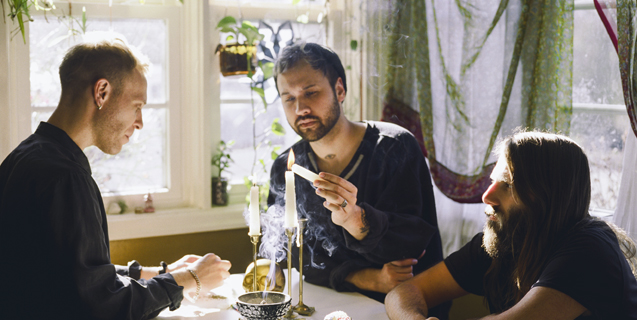 Unknown Mortal Orchestra will release their third album, titled Multi-Love, on Tuesday May 26, 2015 via Jagjaguwar. Where II saw front Ruban Nielson dealing with isolation and solitude, Multi-Love is an investigation into relationships and their complications. The album takes its title from the literal translation of "polyamory," and deals heavily with that theme, specifically with the aftermath of opening frontman Ruban Nielson's marriage to a third person.
Multi-Love's shift in theme is matched by a change in production. Unknown Mortal Orchestra's first two albums were lo-fi affairs, but their third is a departure into high-fidelity. Nielson entirely restructured his process, engrossing himself in keyboards and production techniques. He says, "It's more about being someone who makes things happen in concrete ways. Building old synthesizers and bringing them back to life, creating sounds that aren't quite like anyone else's." Nielson has even jokingly referred to the production and recording process as "super-fi" because his method and equipment have not changed to match the sound. He says he wanted to make a hi-fi record with DIY equipment.
Along with the evolution in production, the band's sound has begun to progress as well. Unknown Mortal Orchestra have not become any less catchy or psychedelic, but they are moving in a different direction than what would be expected of a psychedelic band. Rather than delve into the world of extended solos and jam sessions, Multi-Love features a number of keenly edited, catchy gems.
Multi-Love shows a new side of Unknown Mortal Orchestra lyrically and sonically. Even if it weren't as strong as it is, the record would be worth listening to simply to see how the band has changed from their second album to the third.
UnknownMortal Orchestra's Mutli-Love is available for pre-order on Amazon, iTunes, and Jagjaguwar's SC Distribution.
Editors' Recommendations