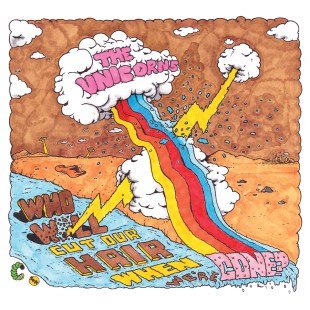 "They rival The Shins, or The Magnetic Fields, or any of the innumerable indie touchstones, but what truly sets Who Will Cut Our Hair apart is the near-total absence of traditional verse/chorus/verse framework in their songs; to nail beautiful, memorable lines with such remarkable ease is a feat unto itself, but to do so in essentially formless compositions is a different class of achievement entirely." – Pitchfork
"It's the sound of people having fun." – NME
"The Unicorns manage to polish an array of pawn shop instruments into miniature masterpieces." – Dusted Magazine
Who Will Cut Our Hair When We're Gone? was the only proper full length album by The Unicorns, and was originally released in 2003. The album gained wide and immediate praise, with broad critical and commercial acclaim from outlets as diverse as NME, Pitchfork and The Village Voice. This cult affection is probably best summarized in the album's involvement as the premise for the CBS sitcom How I Met Your Mother i.e., the basis for the lead character falling in love with said "mother" being their mutual love of the obscure Who Will Cut Our Hair…?.
The Unicorns disbanded shortly after the release of WWCOHWWG?, with founding member Nick Thorborn going on to create the band Islands, and perform in various projects. The Arcade Fire shows are the first time The Unicorns will be performing in over a decade.
Purchase the remastered version of Who Will Cut Our Hair When We're Gone? on iTunes or Amazon!
Editors' Recommendations