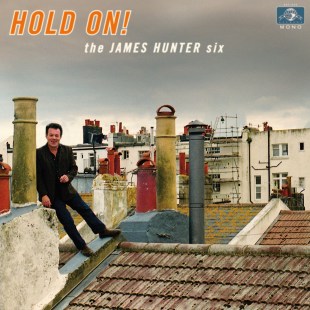 Last Friday James Hunter released Hold On!, his latest record with The James Hunter Six, through Daptone Records. Hold On! is Hunter's first release with Daptone (though his fourth full-length), which may come as a surprise to those familiar with the artist and label. Hunter and his band play a unique brand of classic soul music that feels at home with the music of Charles Bradley and Sharon Jones.
After working with Van Morrison, his success on the Billboard charts, and Grammy nominations, fans might have expected Hunter to take it easy on the new record. Nothing could be farther from the truth, however, and Hold On! finds Hunter at the peak of his game. Early single "(Baby) Hold On," album opener "If That Don't Tell You," and the bouncing "Stranded" are all lively tracks that pulse with energy. Kinetic songs like these are what Hunter and his band have become renowned for, and all three are standout tracks.
With songs like the three mentioned above filling the album's quota for buoyant tracks, Hunter and co. give themselves room to dig into the rhythm on other tracks. Songs like "This Is Where We Came In" and "Light My Life" showcase the band's ability to imbue their music with the essence of vintage soul and sound wholly unique at the same time. The records groove-focused tracks capture something fundamental from old school soul music while incorporating a elements of rumba, bolero, and bossa nova.
The James Hunter Six's Hold On! captures the feeling of classic soul music, but never feels derivative. More than simply another feather in the artist's cap, Hold On! finds Hunter channeling those vintage sounds through a contemporary lens.
The James Hunter Six's Hold On! is out now on Daptone Records and available on Amazon, iTunes, and Daptone's online shop.
Editors' Recommendations