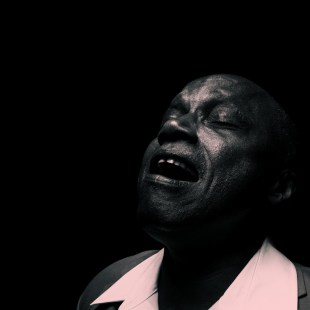 On April 29th, 2014, the debut album from Sonny Knight & The Lakers, I'm Still Here, will be released in the US by Secret Stash Records on LP, CD, and digitally. For Sonny Knight, the making of his debut album nearly 50 years after recording his first single has effectively pushed the reset button on a long and interrupted career, bringing it around full circle musically and geographically. He and his new backing band, the Lakers, recorded I'm Still Here in a subterranean Minneapolis studio a scant seven blocks away from the basement studio beneath a long shuttered record store where he recorded his first 45 (as Little Sonny Knight & The Cymbols) in 1965 at age 17.
Shortly thereafter, music took a back seat to a three-year stint in the army. A few more years in the Bay Area followed, before he returned to Minnesota in the mid-1970s and joined the now-cult favorite funk group Haze. By the early '80s, Haze had broken up and Sonny walked away from music for a full time job as a truck driver.
Unbeknownst to Sonny, not only had that lone 7" record he cut as a teenager ("Tears On My Pillow" B/W "Rain Dance") become a prized item in R&B collector circles in the ensuing decades, his powerful voice had not been forgotten. In the 1990s, vocalists Monroe Wright and Maurice Young (formerly of Minneapolis soul legends the Valdons) extended him an invitation to join their new group, The Bachelors. When the Valdons were revived in 2012 in celebration of Secret Stash Records' Twin Cities Funk & Soul compilation, Wright and Young tapped Knight as a new member.
After six months of working together on shows promoting Twin Cities Funk & Soul, Sonny and Secret Stash founder / in-house funky drummer Eric Foss formed Sonny Knight and The Lakers. In the spring of 2013, Sonny and the Lakers hit the ground running – playing gigs a few short weeks after their first rehearsal. Within months they had grown into their own as a band. In the fall, Sonny and the guys spent a long weekend at a cabin in Northern Minnesota and it became a defining moment. Staying up late, listening to old 45s, learning gospel songs, and wood shedding tunes was a way for the band to develop a similar vocabulary and refine their direction. It transformed them from a group of good players into a band. When they returned home, they set up a string of performances and residencies in Minneapolis and St. Paul. By the end of their residency at the Eagles club in South Minneapolis, virtually no breaks interrupted or slowed down their live sets. Non-stop rehearsals and live performances helped The Lakers tighten up their sound. That, coupled with the inspiration found during the cabin trip, laid the ground work for recording an album.
Nearly fifty years have passed since Knight's first recording, but for the first time he feels like the center of attention. He says, "Sometimes I wonder, why me? Why are all these great things happening now? All I can say is thanks. These are dreams that I had forgotten. Only now that they are starting to come true do I remember that I had them at all."
Purchase I'm Still Here on iTunes!