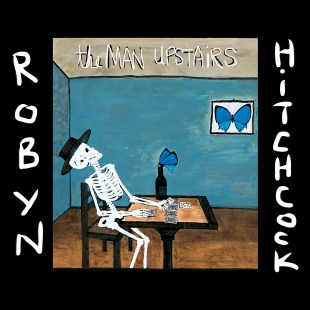 The Man Upstairs sees psychedelic troubadour Robyn Hitchcock uniting with legendary producer Joe Boyd (Nick Drake, Fairport Convention, R.E.M.) for one of the most unique outings of his already quite distinctive career. The album – which arrives just one short year after 2013's acclaimed Love From London – sees the British singer/songwriter musing on mortality, masculinity, and the impossibility of forever via an unexpected intermingling of self-penned originals and "songs I wished I'd written." Modern standards like The Doors' "The Crystal Ship" and The Psychedelic Furs' "The Ghost In You" are reimagined as stark and melancholy folk ballads, and then set to powerful effect alongside haunting new songs like the plaintive "Recalling The Truth." Hitchcock's 20th solo studio recording – give or take a few outtake, demo, and rarities compilations – The Man Upstairs is a remarkable portrait of an artist raging quietly against the dying of the proverbial light, even though that light may well be the 9:35 to Winchester coming directly at him.
"Yet another autumnal record," says he. "Yet another elegiac record. It's reminiscent of I Often Dream Of Trains – there's a lot of autumn on that record as well. It was me, half the age I am now, already kind of nostalgic, already anticipating middle age. "
From plugging in Bob Dylan's electric guitar at his infamous 1965 performance at the Newport Folk Festival to his stewardship of an array of folk heroes – including Hitchcock's beloved Incredible String Band – Joe Boyd has been intimately involved in some of music's milestone moments. Young Robyn first encountered Boyd almost five decades back, the words "Produced by Joe Boyd" emblazoned on album after album in his post-adolescent canon and beyond. The two artists eventually made a more human – though no less personal – acquaintance in 1985, their few professional collaborations including 2012's "Robyn Hitchcock & Joe Boyd – Live & Direct From 1967" tour, coupling musical performances of songs by Nick Drake, Mike Heron, et al. with Boyd's reminiscences of a time when giants walked among us.
"This album started with Joe and me in a car," Hitchcock says, "and therefore in a very confined space. Joe said, 'What you want to do is make an album like Judy Collins did in 1967.' I thought, wow, so that's what I want to do. He said the solution to a problem of which I was not aware was that I could make an album with half originals and half covers."
Boyd proposed Hitchcock – who had indeed often considered "the dreaded covers album" – instead make a record comprising equal part well-known favorites, personal discoveries, and original songs. The multi-tiered method offered the rare opportunity for Hitchcock to record as a performer, not "just another singer/songwriter laying their freshest eggs."
"I am, after all this time, a guitarist and a singer as much as I am a songwriter," he says. "I always saw myself as a songwriter and my voice and my guitar were a means to an end. I thought my records were just blueprints that show how the songs would go."
The Man Upstairs was recorded last October at London's Snap Studio with backing from longtime collaborators Jenny Adejayan (cello) and Charlie Francis (piano), as well as harmony vocals from Anne Lise Frøkedal of Norwegian indiepop combo I Was a King. The project moved rapidly, with most tracks recorded in just one or two complete takes.
"You don't do the song and then say to the audience, do you mind if we do that again?" Hitchcock says. "You do one take and generally that works. The same should apply to making a record – if you're professional enough to play a song all the way through onstage without making a mistake, you should be able to do the same in the studio."
Boyd's traditionalist methodology freed Hitchcock up to worry less about how the new songs were going to turn out and simply sing. The producer was keen to avoid any double tracking of vocals – a technique Hitchcock has used to great effect since his very beginnings as a recording artist.
"They're probably the most unselfconscious vocals I've done," he says. "I was allowed some reverb and delay, but no doubling. I don't have my usual disguises so even though I'm doing other people's songs half the time, it's probably much more me."
The same tack was taken with the choice of material, much of which was determined by Hitchcock's long held belief that a good song will work out of its original context. Thus, baroque staples of the "early alternative era" like "To Turn You On" and "The Ghost In You" are stripped bare, the literal bells and whistles of their initial incarnations eliminated to reveal the expressive essence within.
"It's basically just liberating the songs from how they were originally presented," he says. "The Psychedelic Furs song or the Roxy Music song, they were very state of the art pieces of 80s production – that snare drum you can land a plane on and all the rest of it. They were digital wonders of their time. It's great to be able to perform them with acoustic instruments, live, with little or no overdubs."
Hitchcock further chose to feature a pair of lesser-known songs penned by his pals and occasional collaborators Grant-Lee Phillips ("Don't Look Down") and I Was A King ("Ferries"), the latter featuring additional guitar from the band's own aforementioned Frøkedal.
"Sometimes you find other people's songs that you wished you'd written," Hitchcock says. "And if you didn't write them, at least you can sing them."
Hitchcock has of course performed a diverse range of covers throughout his long career, spanning "Kung Fu Fighting," "Calvary Cross," and countless Bob Dylan songs to benefit concert performances of monoliths like Revolver, Hunky Dory, and The Piper At The Gates Of Dawn. He suggests that "standards" allow for an alternative glimpse into an artist's creative crevices and recesses, revealing hitherto untapped wells of mood and articulation.
"Often other people's songs capture emotion in a way that one's own songs can't," Hitchcock says. "I feel like my emotional palette is limited – every songwriter's is in a way. We talk with our own emotional spectrum and it only goes across so many degrees."
Of his own contributions, Hitchcock chose songs written over decades and across the planet itself. "Trouble In Your Blood" was born in Norway, matured in Nashville, and then finally came together – as did the snappy "Somebody To Break Your Heart" – whilst housesitting Boyd's Paddington flat in the summer of 2013. Penned in its namesake city, "San Francisco Patrol" marks the third released installment of Hitchcock's projected Magnum Force suite, a long-in-the-works eight-song cycle based on the 1973 Clint Eastwood classic, but really "about me."
Begun in 1980 and then finished almost 30 years later upon finding the lyrics in an old notebook, "Comme Toujours" carries The Man Upstairs' longest pedigree. First recorded for a 2010 b-side, the song also inspired Brooklyn-based performance ensemble Big Dance Theater's critically praised production, Comme Toujours, Here I Stand. Small wonder, really – fragile, desolate and almost unbearably poignant, "Comme Toujours" stands comfortably with Hitchcock's finest.
"It had a long time to mature," Hitchcock says. "I'm really glad, because that one had gotten away. I'd written it with Bryan Ferry in mind – I've written lots of Bryan Ferry songs, dozens over the years, though Bryan is blissfully unaware of this. I pictured myself as Bryan Ferry in his Humphrey Bogart incarnation, the white Mac with the collar up and the cigarette, standing disconsolately under a window or on a beach."
The Man Upstairs finds Our Hero in a not dissimilar state – reflective and somewhat forlorn, but also wiser, more astute, and as capable of surprise as ever before. Forced by nature to confront his impending expiration date, Robyn Hitchcock is most decidedly not quite ready to cash in his chips just yet.
"The longer you live, the less time you can spend looking back," he says. "You have to spend the time that remains to you looking forward. That's why I'm not writing my memoirs – I'd rather concentrate on recording and writing and drawing, doing what I've always done, and doing it in various parts of the world. Rather than trying to remember and write down what's happened. In a way, that's what the songs are anyway. My songs have always been bottled time."
Purchase Robyn Hitchcock's The Man Upstairs on iTunes or Amazon!
http://www.robynhitchcock.com/
Editors' Recommendations