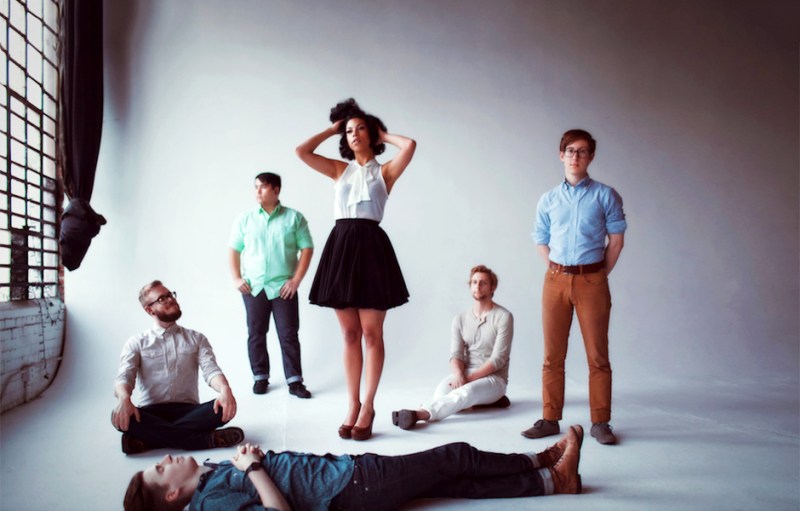 PHOX is a bunch of friends from the Midwestern circus hamlet, Baraboo, WI, a place where kids often drink poisoned groundwater and become endowed mutants. They make music that straddles Feist and Monty Python.
It was in Baraboo that the six unlikely musicians attended high school together, some playing on the soccer field, others on video production sets. But in a town with a drive-your-tractor-to-school day, they didn't last.
They did the thing that most people do when they are 18: they fled the coop, each going their separate ways (to film school, cosmetology school, a job with Homeland Security…). But promises were made that couldn't be kept, and as they fell in unrequited love and lost their respective jobs, in spite of themselves, each simultaneously pulled the ripcord and came home.
The sextet promptly (-ish) got a house together in the Portland of the heartland, Madison, WI. As prolifically documented in their online video series, PHOX rekindled their onetime A/V production house while discovering how to live as a family (i.e. how not to berate each other about the hair in the sink).
After two years of cohabiting, PHOX beheld a demo reel of bedroom-recorded music (and home movies) that made Bon Iver and The Fray recording engineer Brian Joseph blush. Donning his producer's cape (and occasional lab coat), Joseph cheer-led the band through its debut album at April Base Studios in Eau Claire, WI.
Joseph's enthusiasm propelled the band through the production of more than a dozen songs that have been swimming in the think tank for two years.
Mixed by Michael Brauer at Electric Lady in NYC, their debut album is a school of simple folk-pop songs swimming amidst a chaotic eddy of rock, psychedelia, and soul.
If the goal here is friendship, PHOX is doing quite well. If the chosen path is blue collar pixel-pushing and church camp trust falls, they're on the way. And if their only coping mechanism is to lay down their arms and, for 30 or 45 minutes a day, shut up and listen to each other, you can't be too upset.
Order PHOX's self-titled debut album on iTunes, Amazon, or their official site!
Editors' Recommendations