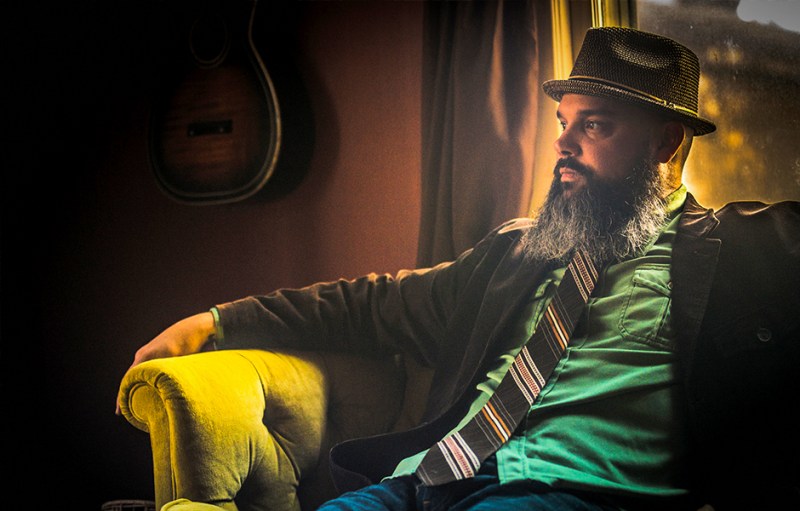 Edward David Anderson is an artist as ancient as he is modern. In a time when the music business desperately flails about, grasping at any new trend that will save its sinking ship, he exists far outside its confines. Best known for his work with the revered Midwestern rock band Backyard Tire Fire who released a string of acclaimed albums in the previous decade, Anderson returns to the national stage with his highly anticipated solo debut, Lies & Wishes. Produced by Los Lobos' Steve Berlin, it finds Anderson creating his own mythology through a collection of songs that embrace vulnerability, while remaining grounded in his working class roots. Anderson sings, "I'm the son of a plumber, from a God fearing mother." The lyric says much about where his story begins as an artist. He was born and raised just west of Chicago and lives a simple life, spending winters in an RV alongside the Gulf of Mexico in lower Alabama. Anderson's an American songwriter on an existential quest who seeks and who searches through song.
"I feel like every experience, every mile, every interaction, every tune, sort of got me to where I am at this moment," Anderson recounts while shedding light on the over-arching theme that ties together the 10-track collection. "The songs on the record are confessional by nature. They are songs about loss and love and living and hope. Halfway through my life, it's an honest look in the mirror."
Anderson's journey over the last five years and his response to the challenges he faced is what sets the lifers apart from those that concede the artistic pursuit. The dissolution of Backyard Tire in 2011 was the first obstacle to overcome. The band had built a devout cult following around the U.S., counting Cracker, Reverend Horton Heat and Clutch among their fans, all of whom took BTF on the road exposing them to a wider audience. It was around this time that Steve Berlin of Los Lobos was first drawn to Anderson's songwriting.
"Backyard Tire Fire opened a show for us and I remember being backstage and listening to their music and I was like, 'Wow, that song sounds really familiar. Whose cover is that? It's a classic tune,'" says Berlin. "It turns out that they were all Ed's originals. They just had that instantly memorable quality to them. So, I introduced myself at the show and we became buddies and then collaborators. Ed's music is so evocative, so well written. I honestly think he is as talented as anyone in the songwriting world and it is important that he be heard."
Anderson adds: "I was just starting to get back on the road again after Tire Fire split, touring with my friend Johnny Hickman and I got inspired to get back in the studio. I had these songs and had something pretty interesting to say based on the experiences I just went through. I knew if I could get Steve Berlin involved, who is an old friend that I've worked with in the past, it could be something special."
It was shortly before this that Anderson's mother passed away, while the previous winter his wife lost her mother, both to extended illnesses. These were defining moments for the 40-year old artist and culminated in a torrent of songwriting. Indeed, songs like "Lies & Wishes" "Lost & Found" and "Chain Reaction" delve deep into the human condition, asking difficult questions of both himself and his loved ones.
"A lot of the subject matter on this record came from reflecting on these painful experiences" says Anderson. "After losing my mom, I decided I've got to make a record and dedicate it to her and make a statement here on my own."
Musically speaking, the core of Lies & Wishes is built around refined melodies, acoustic guitars and sparse arrangements, yet Berlin's production colors the tracks with squalls of electric guitar, affected vocals, drum loops and assorted analog keyboard flourishes. It should also be noted that fans of Anderson's vintage rock and roll songwriting from his Backyard Tire Fire days will find plenty to love on tunes like "Nothing Lasts Forever," "Taking It Out On You" and "The Next Melody," which deliver the big hooks and classic refrains on which he so effortlessly hangs his hat.
This is where we find Edward David Anderson today. His heart's on his sleeve and it's that of an artist. Nobody ever said it was going to be easy, but as the songs on Lies & Wishes bare out, when the muse calls, he will be there to answer.
"I needed to make this album," he concludes. "I feel like it's undoubtedly my finest work to date, the beginning of the next chapter for me."