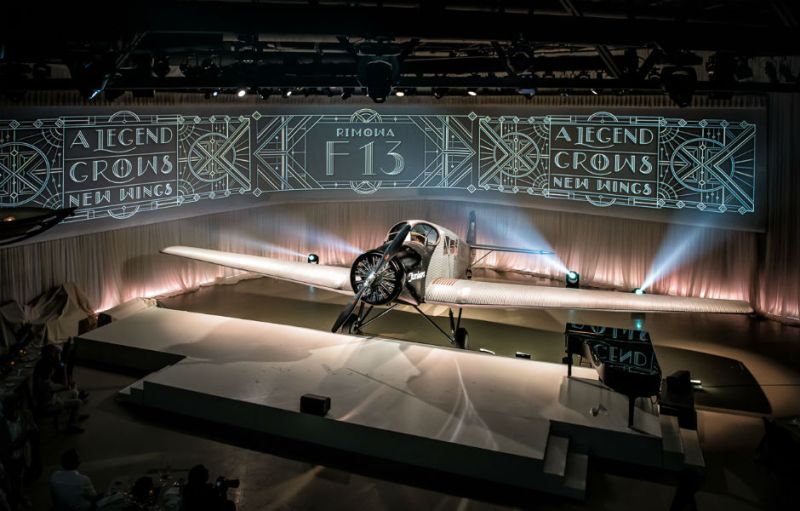 How does a luxury luggage company cement its jet set status? By building its own airplane, of course! Rimowa, JU-Air and the Association of the Friends of Historical Aircraft built a fully functioning replica of the Junkers F13, which is named after the aircraft designer and engineer Hugo Junkers, was launched in 1919 and revolutionized aircraft construction. It was the first metal aircraft with a closed passenger cabin. By 1933 there were more than 330 units, and now only a few can be found in museums, but none are airworthy.
The plane, which should be fully functioning and licensed to fly next spring, was unveiled on July 20 during EAA Airventure OshKosh, the world's largest airshow. Now it may appear odd that Rimowa would build a plane, but after hearing the company's backstory, it makes perfect sense. "My father, when he showed the first luggage with the grooves in 1950, it was made exactly out of the same material — aircraft aluminum," said the company CEO and president, Dieter Morszeck. "It set the trend of lightweight luggage. It's very robust, very durable, and very light weight at the same time."
Rimowa will also be releasing a new edition of its Classic Flight Series to coincide with the plane's maiden voyage next spring. "It is our heritage, so we think that it's a kind of quality," said Morszeck. "It's something that's completely different. It's a little bit of adventure, and it's part for a brand, so we sell more and more aluminum cases."
For more information, visit rimowa-f13.com.
Photo: Ben Lozovsky/BFA