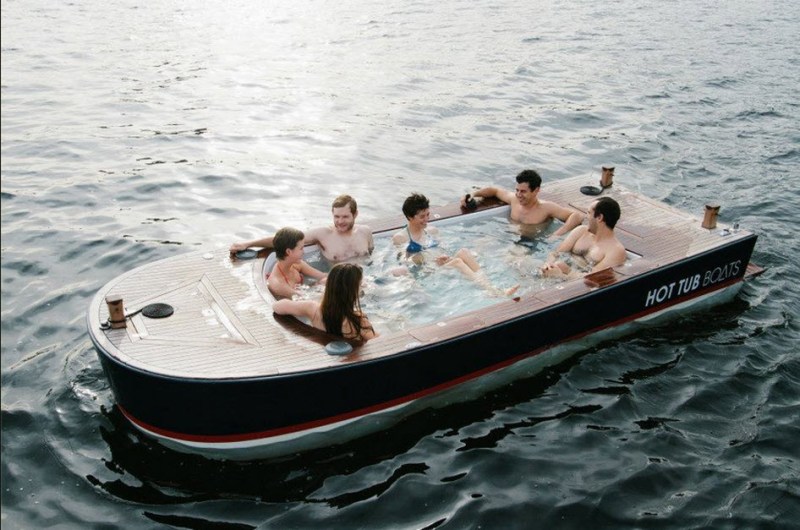 Have you ever been sitting in a hot tub and said, "Man, I'd love to be on a boat right now?" Or, maybe you said something like, "I'd kill to be in a hot tub right now," while you were on a boat? Well, the geniuses over at Hot Tub Boats have put their brains to work, and became good friends with U.S.C.G. (United States Coast Guard) to provide both a hot tub and boat, and have now created what you see above.
Now…let's get to what you need to know:
The boat is fifteen feet in length, and it can fit six people and has a run time of ten hours. So choose your friends wisely; you'll be quite close to one another.
The hot tub is eight feet in length and has width of four feet, and a maximum temperature of one-hundred and four degrees (Fahrenheit).
It has beautiful African Teak decks and a swimstep, as well as a waterproof stereo with wired remote for your MP3 player or iPod. So you can finally sing this song, and it will actually make sense.
While we're on the topic of technical features, it has a 24-volt, joystick operated drive system that allows anyone to drive it—while sitting in pure relaxation. It is battery monitored, and comes with a Smart-Plug shore power connection.
There is no need to have a boaters' education card to drive, rent or own this dream machine. So, if you're feeling generous enough, you could let some of your other sea-dwellers drive it, too.
Alcohol is not allowed, which is probably a good thing because they've never mixed very well with hot tubs, anyway.
While you can purchase the boats anywhere, their weekday and weekend rentals are only in Seattle, which run Monday-Thursday at $139 an hour—with time slots going from 2-4 hours; however, if you're going to do a weekend rental (Friday, Saturday, and Sunday), it'll cost you $159 per hour. And Hot Tub Boats does individual and small group memberships, as well as premium and corporate ones, too.
Editors' Recommendations