Is there any vehicle on Earth cooler than the Batmobile? We submit there is not. Over the years, Batman's high-tech steed has undergone numerous makeovers — the latest of which can be seen in next year's Batman v. Superman: Dawn of Justice. However, it all started with the original Batmobile #1, which was featured prominently in the original 1960s Batman film and TV series starring Adam West as the titular hero.

If you want to be technical about it, the first Batmobile was actually featured in the poorly received — and frankly, racist — Batman film serial of the 1940s. But Batmobile #1 is the one everyone remembers, and it's available for sale right now from Barrett-Jackson, the world's leading collector car auction company.

Related: BAM! POW! A History Lesson In Comic Book Heroes

The Batmobile #1 began life as a 1955 Lincoln Futura concept car assembled in Turin, Italy. The vehicle debuted at the 1955 Chicago Auto Show, and went on to appear in the 1959 film It Started with a Kiss starring Debbie Reynolds.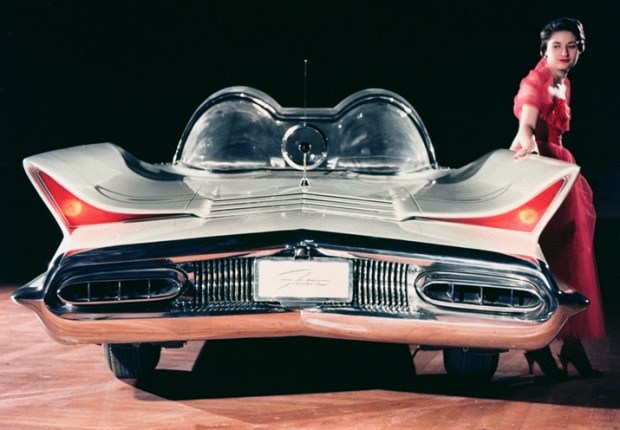 The concept car eventually found its way to the shop of auto customizer George Barris. In 1965, Batman producer William Dozier hired Barris to transform the concept vehicle into the legendary Batmobile for the upcoming film. Barris was only given three weeks, but he knocked it outta the goddamn park.   
After the 1966 film and short-lived series, the Batmobile #1 and her replicas appeared in parades, auto shows, and comic book conventions. In 2013, the legendary vehicle was sold at auction for $4.6 million, tying James Bond's Aston Martin DB5 from Goldfinger as the most expensive vehicle in film history.    
Now, the automatic 3-speed V8 Batmobile can be yours, albeit without the high-tech gadgets. Interested parties are invited to inquire for price — but no matter how sharp your bargaining skills, you'll probably need a few million dollars to bring this puppy into your bat cave. Holy Chapter 7 Bankruptcy, Batman!
Visit Barret-Jackson's website to learn more about the Batmobile #1
Editors' Recommendations