It's time for the Weekend Roundup, and we're here to catch you up on all of the latest happenings in the sports world. Who's in, and who's out of the College Football Playoff, Cam Newton keeps on dabbin', and will the Warriors ever lose? 
The College Football Playoff Field Is All But Certain: If there is one thing for certain heading into conference championship weekend, it's that nothing is guaranteed. This time next weekend, the polls will close, and we'll finally know which four teams will be competing for a national championship in the College Football Playoff. The one thing we can guarantee is that controversy is likely to ensue next Saturday. But, does that really come as a shock to anyone? It wouldn't be college football without chaos.
Clemson, Alabama, and Iowa all have one job to do: Win and you're in. But, of course, that's much easier said than done. Clemson will take on one of college football's hottest teams, North Carolina, in Charlotte for the ACC Championship. North Carolina is one of those bubble teams that has the opportunity to sneak their way in the playoff if they beat Clemson. They need help, but beating Clemson is first and foremost for the Tar Heels. Alabama will be in undoubtedly if they take care of business against the reeling Florida Gators in the SEC title game. The winner of the Big Ten Championship between Iowa and Michigan State will also reserve a spot in the College Football Playoff. The one team that should be able to take a breather this weekend is Oklahoma. They dominated their arch rivals, Oklahoma State, in Stillwater, and likely punched their ticket to the playoff in the process. Since their ugly loss to Texas in early October, the Sooners have been on a mission led by their Heisman worthy quarterback, Baker Mayfield.
Saturday night's classic between Stanford and Notre Dame gave the Cardinal hope, and crushed the hopes of the Irish. Stanford kicker, Conrad Ukropina (pictured above), made the kick of his life, and locked Notre Dame out of the College Football Playoff. Stanford now has an opportunity if any of the teams at the top falter. They must win the Pac 12 Championship game against USC and root for the Tar Heels and Gators. While Ohio State had an impressive win at the Big House against Michigan, they don't have the luxury of another chance in the Big 10 Championship game as they did last year, so there will be no repeat champion in 2016 unless something bizarre happens.
The scenarios are endless, and it's sure to be one hell of a weekend for college football. Drama will unfold, and tensions will rise with playoff hopes on the line. No matter the outcome, this season has been nothing short of extraordinary and the College Football Playoff will follow suit. When all is said and done, we expect Clemson, Alabama, Michigan State, and Oklahoma to be playing for a national championship. But, then again, anything can and will happen.
Panthers Top Cowboys on Thanksgiving Day: It was a usual day at the office for Cam Newton on Thanksgiving Day. He scored, he dabbed, and he propelled his Panthers to victory over the Cowboys to remain undefeated, 33-14. Newton had a solid day passing and rushing, but it was Carolina's defense that was the difference maker early in the ball game. Dallas quarterback, Tony Romo, who was making his first start since September because of injury, threw three costly interceptions that doomed the Cowboys' chances. Luke Kuechly and Kurt Coleman each had a pick six for the stingy Panthers' defense. While Dallas has now lost 8 of 9, their biggest loss might have been losing Romo for the rest of the season. Late in the third quarter, Romo was blitzed and hit by Thomas Davis which resulted in another hairline fracture in his collarbone. He never appeared to be playing 100% healthy at any point during the game, and reports surfaced that he should have never been able to take the field because his collarbone had not fully healed. "I'm just very disappointed in not giving our team a chance to win today," Romo said. "They depend on me to go out there and perform at a certain level, and when I let them down, let our team down, our coaches, our fan base, everybody. That's what I did today, and I have to live with that."
The Panthers are now 11-0, and have an undefeated regular season in their sights. They would be the first to accomplish such a feat since the New England Patriots finished the regular season undefeated in 2007. Their schedule sets up nicely with only one team with a winning record remaining. If Cam Newton continues his MVP-like numbers, and the defense keeps making big plays, we wouldn't be surprised to see the Panthers dabbing their way to 16-0.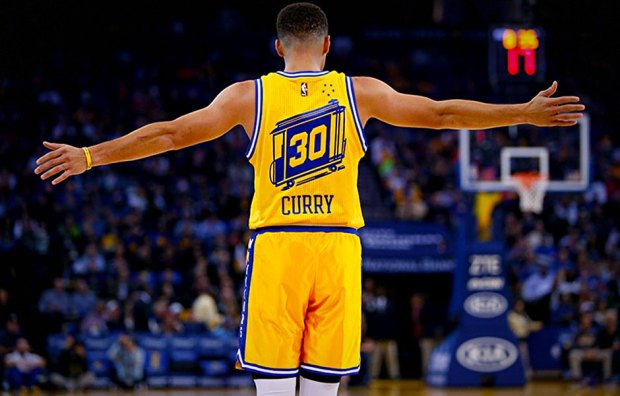 Will the Warriors Ever Lose? As the calendar flips to December, the Golden State Warriors remain as the lone undefeated in the NBA. During their run to 18-0, the Warriors surpassed the the 1995 Chicago Bulls win streak of 15 games to start the season. With their unblemished record still intact and a lighter schedule on the horizon, there seems to be no loss in sight. While they are the same team that won the NBA title last year, this year's team is even better, and that's scary for the rest of the league. It's early in the season, but Stephen Curry seems poised to hoist his second consecutive MVP trophy at the end of the season. Curry is averaging 30+ points per game for a Warriors team that averages an NBA best, 115.8 ppg., but it's not just Curry that makes this Golden State squad look unbeatable. There are three other Warriors averaging double figures. Klay Thompson, Draymond Green, and Harrison Barnes are all contributing at a higher level than last year from beyond the arc and in the paint. On Wednesday, the Warriors will embark on a 14 day, 7 game road trip that begins in Charlotte against the Hornets. Many teams would be happy to finish that trip with 4 wins, but not the Warriors. They want to be 25-0 after that stint, and anything other than that would be a disappointment. If you had to circle one game on the calendar that could mark the end of the run, it would be Toronto. The Raptors are 11-7 on the season, and hold opponents to only 95 ppg which ranks fifth in the NBA. While it could happen, we certainly wouldn't bet against Stephen Curry.
Check back with us every Monday for a recap of the weekend's biggest action in sports.
Photo Credit: Marcio Jose Sanchez – Associated Press
Editors' Recommendations