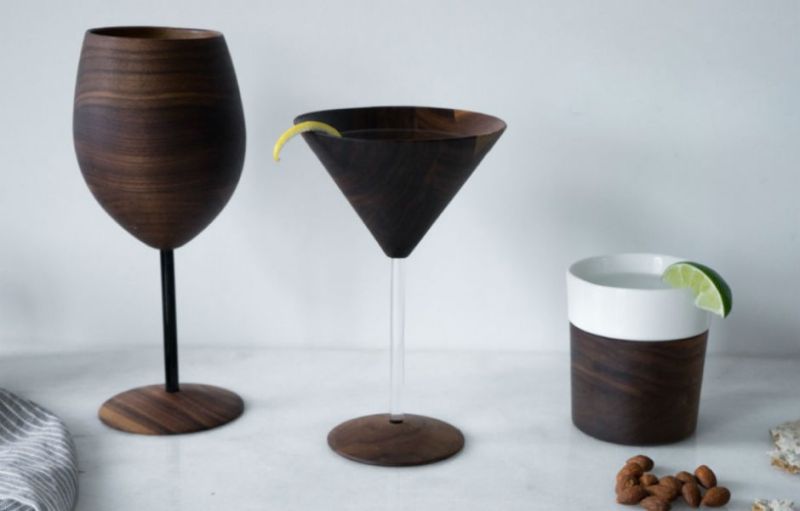 Going to all those expensive artisanal cocktail bars can put a huge dent on your wallet, especially with all those $15 drinks. Entertaining at home can be the next best thing, and we know a lot of you Manual readers are aspiring mixologists, and putting together the right mix of rum, lime and sugar for that perfect daiquiri, or bourbon or rye, bitters, and sugar for a delicious old fashioned, for a bunch of friends can be an ideal night. But, if you only have souvenir pint glasses or coffee mugs in which to serve your concoctions, that definitely takes the fun out of the whole idea of having a night in.
Lucky for you, designer extraordinaire David Rasmussen created barware that is stylish and suitable for all you at-home mixologists. Want to pop open that special bottle of wine? Use a pair of mid-century-inspired David Rasmussen WUD wine glasses, which are made entirely out of wood and keep your drink at the right temperature. Perfecting your martini game? After you're done shaking or stirring it, pour it into a David Rasmussen WUD martini glass. Not only does it look good, the wood keeps your martini cooler than glass barware. Plus, it looks way cooler than your standard martini glasses in our opinion. If you need a tumbler, try the DAvid Rasmussen WUD tumbler, which combines ceramic and wood. It's perfect for a number of drinks, or even a glass of ice-cold water to hydrate in between all those cocktails you're making at home.
If you're in search of super cool, stylish barware for your bachelor pad, may we suggest the David Rasmussen WUD collection? Not only will all your friends love you for making them drinks and saving them money, they'll also think you know how to make those drinks look good.

For more information, visit davidrasmussendesign.com.
Editors' Recommendations