The Big Lebowski: What makes a man, Mr. Lebowski? Is it being prepared to do the right thing, whatever the cost? Isn't that what makes a man?

The Dude: Hmmm . . . Sure, that and a pair of testicles.

—The Big Lebowski (1998)
When a man thinks about his testicles, it's usually because they're uncomfortable. Virtually every man has endured the agony of chafing and sweating, and many of us have sat on our family jewels once or twice.
Though they're a pain to live with, testicles are extremely important. In addition to their trivial role as factories and storage facilities for reproductive cells that are essential to our species' survival, testicles produce the manly hormone testosterone. Biologically speaking, testicles are — as The Dude points out in the quote above — what make a man.
Related: Feel Good Friday- Movember!
The gentlemen at Rhone Apparel, an esteemed activewear company based in Connecticut, fully understand the duality of life with testicles. That's why they've designed a pair of shorts that provides extraordinary comfort down there (the Valhalla Compression Short), and pledged 20% of each pair's purchase to the Testicular Cancer Foundation for the month of June (Men's Health Month).
The Valhalla Compression Short is a heavenly oasis for one's testicles. The shorts are made with flat-lock seams to prevent chafing, a soft-knit waistband, moisture-wicking material, mesh panels to control temperature, and SilverTech threads designed to block odor. Each pair also comes with an inspirational quote on the exterior: "May the Brave Live Forever."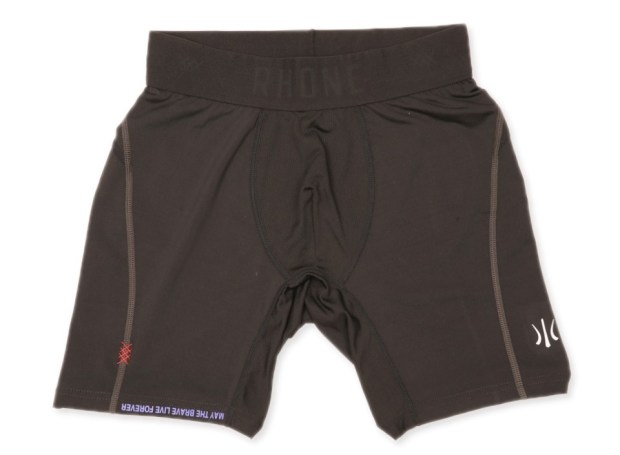 According to the Testicular Cancer Foundation, testicular cancer is the most common form of cancer diagnosed in males aged 15 to 35. Fortunately, 99% of men diagnosed with testicular cancer survive it, provided the diagnosis comes early. Regardless of your age, we urge you to investigate your testicles regularly and visit a doctor if you notice any lumps or other troubling changes. Visit the Testicular Cancer Foundation's website to find out how to perform a thorough exam. You can also order an informative shower card for a suggested donation of $1.
With each $35 purchase of the Valhalla Compression Short, $7 (20%) will go toward testicular cancer research and relief for current victims. The campaign's apt slogan says it all: "Buy a pair, save a pair!"  If you don't take Rhone up on this offer, then you're just plain nuts. The ball's in your court now. *Drops mic*
You can purchase the Valhalla Compression Short at Rhone Apparel's website.
Editors' Recommendations