The results are in: Football is America's favorite sport, and has been for some time. However, many football fans — myself included — have a complicated relationship with the sport. Though it's thrilling to watch a running back spin and juke his way to the end zone, or a serendipitous pick-six in the fourth quarter, it's difficult to deny the violent nature of the game and the toll it takes on some players.
Negative press — most notably the football-related brain damage explored in the recent film Concussion — has scarred the NFL's reputation. Fortunately, the beloved football league fully understands its obligation to its players and fans, and is working toward creating a safer game that millions of us can enjoy guilt-free.
Related: Super Bowl Party Recipes
In honor of the momentous Super Bowl 50, set to kick off in the Bay Area this Sunday, the NFL Foundation and the Council of Fashion Designers of America have collaborated on a collection of 50 unique designer footballs. These footballs are up for auction until February 14th, and will be on display in San Francisco until the day of the big game. The starting bid for each meticulously adorned football is $500, and all proceeds will go to the NFL Foundation.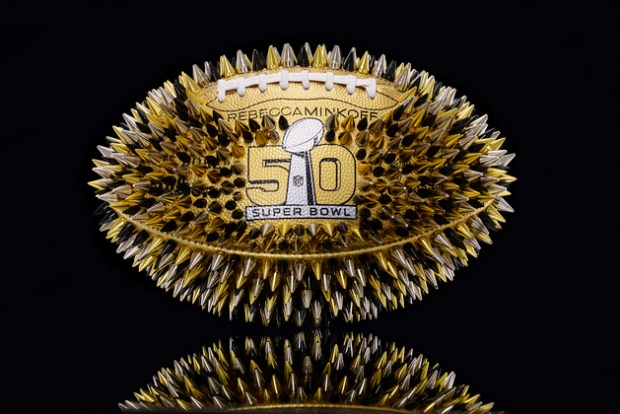 The NFL Foundation wears many hats (or helmets, rather), and is squarely focused on supporting youth athletes and the communities in which they live. They do this by improving safety, funding parks and recreation spaces, and increasing opportunities for young players. The NFL Foundation also goes a long way toward promoting exercise for children, which is an all-important pillar in the fight against childhood obesity.
While you're watching the Panthers and Broncos duke it out this weekend, you might consider bidding on an exquisite designer football to help ensure a safer future for the game we love so well. Also, a football with oxidized silver chains and Swarovski crystals would look pretty awesome on your mantle.
Take a look at the NFL-CFDA auction for yourself, and check out this page to learn the story of this unique collaboration.
(Featured football designed by Rachel Zoe)
Editors' Recommendations