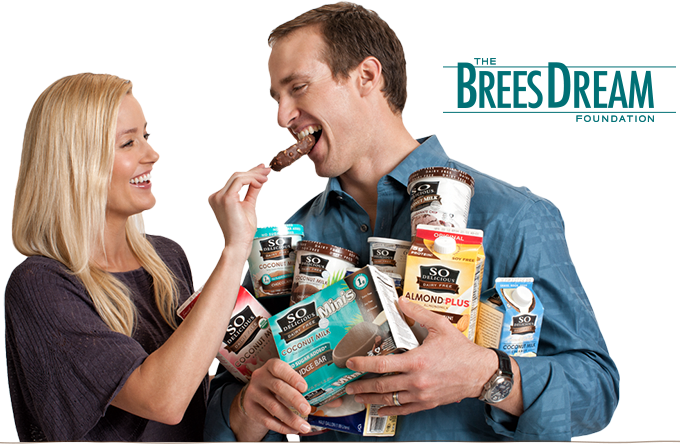 Ice cream, you scream, we all scream for improving the quality of life for cancer patients and providing care and education for children and families!
OK, that may not be a very catchy jingle, but it is a fun way to describe the partnership between the Brees Dream Foundation and So Delicious Dairy Free. The Brees Dream Foundation is a nonprofit organization run by New Orleans Saints QB Drew Brees and his philanthropist wife, Brittany; and So Delicious Dairy Free is an Oregon-based food company that makes all sorts of tasty dairy-free products — including frozen desserts.
To date, the Brees Dream Foundation has given more than $22 million to charities and schools, and they're about to give a bunch more. So Delicious Dairy Free has pledged 0.75% of their frozen dessert sales during July and August to the foundation, with a minimum uncapped donation of $75,000.
Related: How About Some Homemade No-Churn Ice Cream?
Like millions of other Americans, Drew and Brittany Brees are allergic to dairy, so this partnership makes a great deal of sense. Drew and Brittany Brees also partnered with So Delicious Dairy Free back in 2012 to help folks with food allergies and sensitivities discover healthy, delicious foods.
And So Delicious Dairy Free definitely falls in the "delicious" column. Among their many dessert offerings are their new line of cashew milk frozen dessert, coconut
milk frozen desserts, and the world's only dairy-free, gluten-free cookie dough frozen dessert. Drew, Brittany, and their three boys swear by the stuff. We're not saying these frozen desserts will help you win the Super Bowl, but they couldn't hurt your chances.
At The Manual, we're not shy about our love for animal products — but neither are we hostile to those who go the vegan, naturally sweetened, gluten-free, dairy-free, non-GMO route. Whether you have a dairy allergy or are just looking to mix things up with your summer desserts, So Delicious Dairy Free is a good way to go. Indulging in dessert is rarely associated with charitable acts; this is your big chance!
Editors' Recommendations