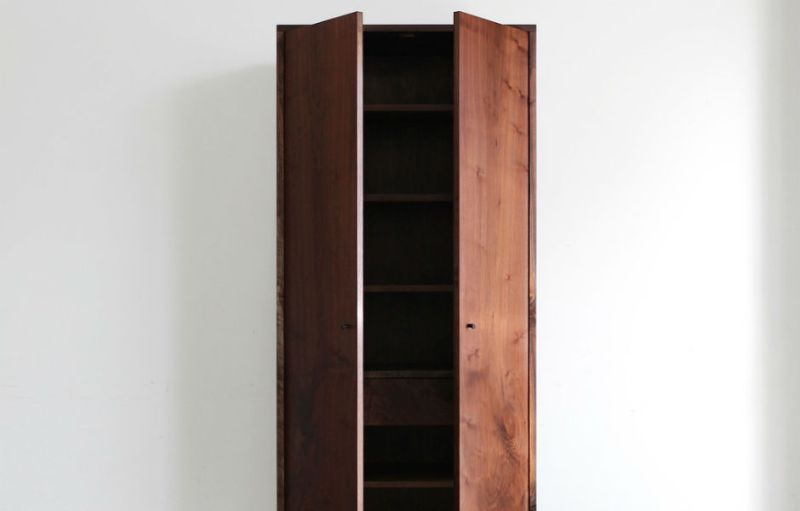 Chad and Emily Robertson helm a small artisinal furniture company based in Seattle called CHADHAUS. One day, they got a request: "Can you make a tall storage cabinet that looks like your credenza?"  "We made about four cabinets that met this brief, in different variations, before launching this version of the piece," said Chad Robertson. "What we found most appealing about this final design is that the cupboard can be used in bathrooms, kitchens, bedrooms, living rooms, and even professional offices – housing linens, pantry items, garments, supplies, electronics and beyond."
The final piece, a space-saving cupboard, is versatile and can function in large and small rooms alike. Use it in the kitchen as a pantry. Have kids? It can also be placed in the kids' room or playroom to hide all the toys once they've had enough fun each day. In the bathroom, it can serve as a linen closet and a place to store toiletries. Don't have a proper closet in your bedroom? Put it there so you have a place to store that pile of clothes that's sitting all over your bedroom. "We really like the fact that the piece can be put to work in so many different ways, and looks great," said Chad.
Each made-to-order piece takes a painstaking 45 hours to make. According to a release from CHADHAUS: "Building each cupboard begins by selecting materials —  CHADHAUS chooses which board will be the left side, which board will be the right side, and most importantly which boards will become the doors.The boards for the doors are re-sawn into super thick veneers and pressed onto a plywood core —  combining the stunning appearance of the original board with the stability of plywood, which is essential for this scale of piece to avoid warping and twisting. Each wood is sourced from multiple locations throughout the Pacific Northwest — primarily the Willamette Valley. High levels of naturally-occurring glacial sediment (glacial till) throughout the region influence the grain pattern and color variation of the wood. The unique nature of subspecies and hybrids in the Pacific Northwest also contributes to these variations, sometimes casting hues of grey, purple, or red."
The beautiful piece stands out in any room.
For more information, visit store.chadhaus.com.
Editors' Recommendations