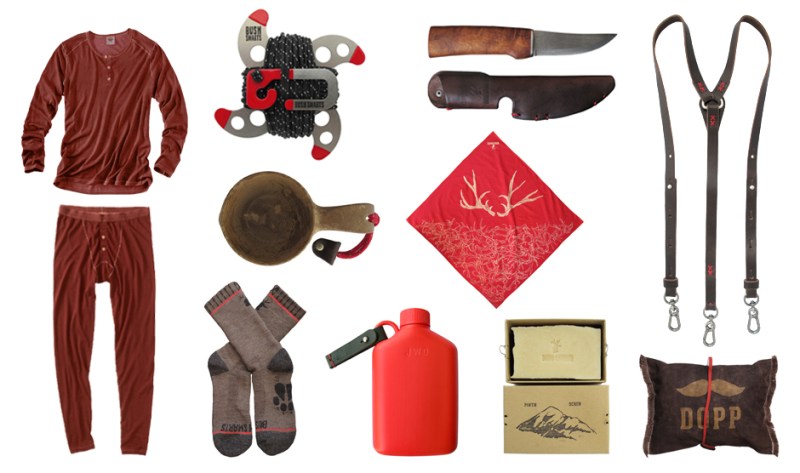 Camping gear maker Bush Smarts is bringing back the art of bushcraft. We're talking carving spoons out of wood and starting fires without matches. "We want to reconnect people to the ancient heritage of connecting with nature," says Kevin Sterling, co-founder of the New York-based company. "We want them to enjoy their precious time in the woods, learn how to identify birds, cook some good food and sit around the fire with a nip of whiskey—in our flask."
After working for Eastern Mountain Sports, Sterling and John Davison launched Bush Smarts in November 2012. Along with their very first product, a titanium line thrower called the Bear Star, they now offer more than 70 handmade goods for camping. Sterling talked to The Manual about putting a modern spin on bushcraft and offered tips for newbie campers.
Have you been camping for a long time?
About 25 years. I was a cub scout since six or seven years old so I would camp once a month, and also go on a week-long trip with my dad every year. John's been camping for at least 20 years–he has a standing record of camping once a month for the last three years.
How would you describe Bush Smarts?
Well, our mascot is the jackalope because it's a mixture of two animals. And that's how we see our company–we're kind of a hybrid. We're a mixture of urban living and the outdoors. And we like to take an age-old material, like leather, and mix it with something cutting-edge like titanium or carbon fiber fabric.
What's the story on the company's name?
We decided on Bush Smarts because it's reminiscent of bushcraft, which goes beyond wilderness survival. It's not just about learning the skills and tools to get by in the woods. It's about learning how to engage with the outdoors, to observe and then to thrive. Education is an important part of what we do. So in addition to making and selling gear, we're interested in teaching the skills that are lost in modern times.
So how do you go about teaching those skills?
Right now, we make illustrations showing basic camp skills. On our Tumblr blog, there's a simple black and white illustration that boils down the ingredients and process for making simple camp bread. Eventually, we'd like to make video tutorials.
Where are your products made and how involved are you with the creation process?
Our flask, knives and axes are made in Finland, and a lot of our titanium components are cut in Ohio. Then they are all shipped to New York. A lot of our textiles and leather goods can't simply be made with machines. We put them together and paint them in John's studio, where we work. John and I pack every item and every box we send out. So we're very hands-on. We also camp with everything we make–we don't sell things we don't personally use.
What kind of people buy Bush Smarts gear?
We sell to a lot of hardcore campers who are gear junkies and just want whatever's new and exciting in the camping world. We also sell to people who are design-savvy but have never set foot off of land that isn't pavement. Either way, it's people who appreciate aesthetics and handcrafted good.
And which items usually catch their interest?
People are very fond of the knife, which is made in Finland–we design and make the sheath here in New York. Also, our hand-cut suspenders definitely register with somebody who's a conscious urbanite.
Do you have a few quick tips for first-time campers?
A pocketknife is absolutely essential. And always have some kind of illumination at night, like a headlamp. Also, invest in either lightweight wool or synthetic socks and clothing. A lot of new campers go to the woods in jeans and cotton shirts, and the headaches they can get comes from being cold and wet. So good clothing alone will give you a positive attitude.
*Bush Smarts is currently offering a 15% discount coupon for a limited time–enter MAN15 at the checkout page.
Editors' Recommendations