Man isn't meant to stay indoors — our weekly "Trekking" column can attest to that. It's a column dedicated to the adventurer inside of all of us, the one pining to ditch the office humdrum for a quick surf session or seven-week jaunt in the Grand Tetons. One day we may highlight an ultra-light stove and the next a set of handmade canoe paddles. Life doesn't just happen inside the workplace, so get outside and live it.
Winter excursions aren't for the faint of heart. While the summer months may feature balmy temperatures and dry conditions — that is, depending on your region — peak snow season rarely allows you to hit the trail with simply a pair of cargo shorts and some synthetic-leather boots. That said, crampons are an overlooked necessity when carefully skirting snow and ice, providing you with a secure means of trudging up snow-capped peaks and across treacherous glaciers that would otherwise pose a risk to your well being and that of those around you. After all, safety should always be a priority.
Related: The best base layers for 2016, including the venerable Patagonia R1
These days, most lightweight crampons feature semi-rigid construction and a steel framework, granting the basic devices the utmost versatility and flexibility when it comes to winter walking or moderate climbing. However, while there might be scores of capable offerings on the market specificity designed for activities such as technical climbing and waterfall ascension, choosing the right pair for you is seldom an easy task. Below are three of our favorites to make your decision a bit easier, whether you're looking for a rudimentary set of crampons or a pair conveniently built for any scenario.
Black Diamond's Sabretooth is one of the best all-around mountaineering crampons available, constructed of lightweight stainless-steel and outfitted with versatile horizontal front-points. Their sturdy and agile build render them as apt for moderate ice routes as they are alpine slopes, while the aggressive set of secondary points allow for a more stable platform in softer conditions. One-size construction adds to their appeal, too, along with the two binding systems and excellent anti-balling plates.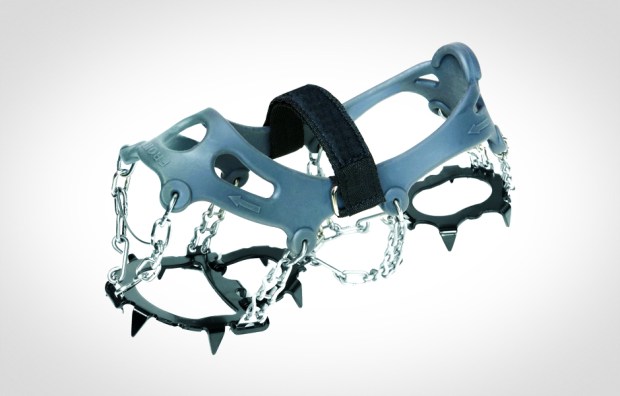 You certainly wouldn't want to take Hillsound's carbon steel crampons up the frozen walls of Valdez, Alaska, but they're more than capable of helping you trek across slick trails and icy pavement when you have little cash to spare. The lightweight crampon's basic harness is easy to apply and adapts to nearly all types of footwear, while the 1.5-inch spikes and extended heel point provides ample traction when moving downhill. Their reinforced-elastomer construction even helps them maintain their pliability in subfreezing temps.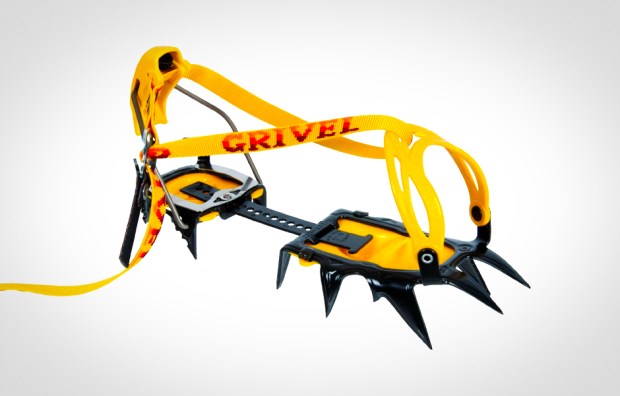 If you've never heard of Grivel before, you're not alone. However, the Italian company has been manufacturing climbing equipment for decades, and the G-12 is a testament to its craft. The 12-point crampon is made of chromoly steel and dual-component plastic, which allows it to retain its durability and adhere to the boot at the same time. The one-size-fits-all design is aimed at general mountaineering, too, and makes use of four perpendicular points that work to prevent shearing and and improve stability when the time comes to trudge downward.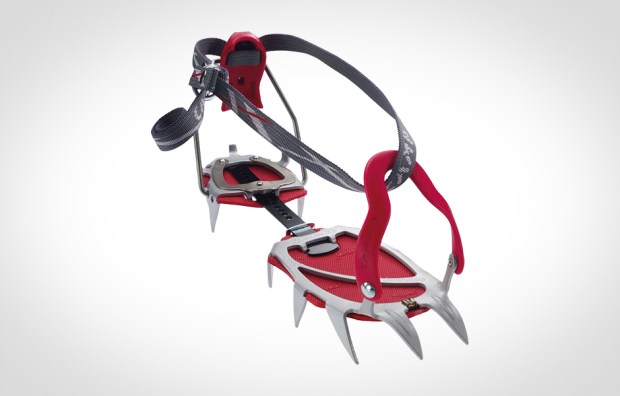 The C.A.M.P. USA Stalker function much like the aforementioned Grivel G-12, in that they utilize chromoly steel construction — a trusted mainstay in mountaineering — and benefit from easy size adjustment. Moreover, the universal bindings make use of a thermoplastic heel and toe harness specifically designed to wrap around nearly any hiking or mountaineering boot you have in your arsenal, allowing you to secure them in place with more than a couple nylon straps. They're even more appealing when you factor in the anti-balling plates, assorted color options, and rock-bottom pricing.
Petzl designed the Irvis with two things in mind. The French company wanted to craft a crampon that provided solid traction, while keeping the number of points to a minimum in order to protect your pants from unwanted crampon attacks. Thankfully, the 10-point Irvis achieves both, with a full-strap Flexlock binding system in tow. The basic design works with most boots — with or without front and rear welts — and capitalizes on anti-balling plates and a linking bar that allows for both flexible and semi-rigid modes. The wide, horizontal front points only further their piercing power.