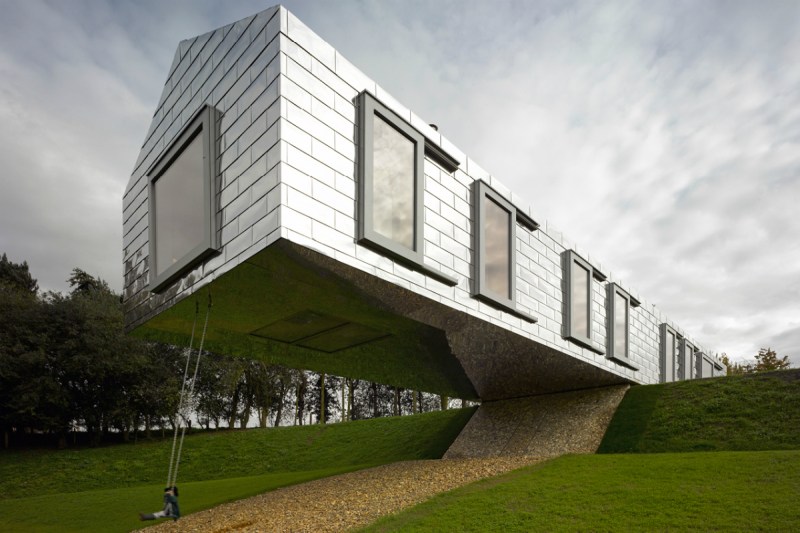 Some architects love to push the envelope by building structures that seem to defy gravity. Other architects like incorporating little touches of whimsy into their designs. The folks at architectural firm MVRDV do both, and they do it in stunning fashion. Since their inception in 1993, the team has created buildings and art installations that demonstrate how radical contemporary architecture can get while also adding a touch of playfulness that intrigues and engages visitors.
Balancing Barn is a shining example of just how far they can go.
Located in Thorington, Suffolk, United Kingdom, Balancing Barn was built in 2010 as a vacation rental for Living Architecture. Created as a way to connect people with the beauty of contemporary design, Living Architecture commissions unique holiday homes around the United Kingdom. It was a perfect collaboration for both companies. Each has a philosophy of providing immersive experiences and enhancing people's appreciation of contemporary design. Balancing Barn provides all of this and then some.
The fun of Balancing Barn begins with the journey along the nearly 1,000-foot long driveway. As you approach the home, it appears to be a simple, and small, dwelling. It isn't until you are nearly upon it that the drama of Balancing Barn reveals itself. The home is 98 feet long and half of the structure cantilevers precariously over a sharp slope in the land. It's enough to induce vertigo in even the most adventurous. And that's just the start of the immersive experience. From the playful reflective steel tile exterior to a window in the floor of the family room, around every corner there is a chance for vacationers to interact with the building.
Inside, Balancing Barn has all of the amenities of traditional vacation rentals. There are four bedrooms, each with their own bathroom, a full kitchen open to the dining area, and a spacious sitting area with fireplace. Sliding panels of glass off of the dining area lead out to a breakfast terrace and there is a fire pit for cooking outside on warm days.
Throughout the home, large picture windows frame beautiful views of the English countryside. But there are also bonuses that make this holiday getaway stand out from the rest. The home, which sits on six private acres, is also a gallery for ultra contemporary artwork.
Outside, below the cantilevered section, a swing hangs from the home, beckoning the brave to take a ride if they dare. The underside of the home is also clad in the reflective steel tile, turning the space into an almost Wonderland-like hideaway.
Excited at the idea of a stay in Balancing Barn? You can book a getaway through Living Architecture. The popularity of this retreat means they are fully booked for the remainder of this year, so you will have to wait a while before you can snag a spot for yourself. But the thrill of taking a ride on that swing will be worth it. A stay here will leave you crossing your fingers that MVRDV understands Newton's Law of Gravity better than we do (which is not at all).
For more of MVRDV's gravity-defying work, check out their Seasaw art installation.
Editors' Recommendations