National Donut Day is upon us and with that, we come bearing, well, donut recipes. After you've gotten your free donuts from Krispy Kreme, Dunkin Donuts, and wherever else is giving away the goods, you're probably going to be riding a sugar high and want to keep that feeling going, so what better way than to either A) buy some donuts and make them into a meal or B) make donuts yourself. There is also option C, which is both A and B together.
Below, you will find two recipes, one for a cheeseburger that uses donuts in place of buns, and one that'll allow you to make gluten-free funfetti donuts from scratch. Either way, you can't go wrong.
(Don't know anything about National Donut Day? Check out the surprisingly interesting history of the holiday here.)
Twisted Tea Glazed Donut Burgers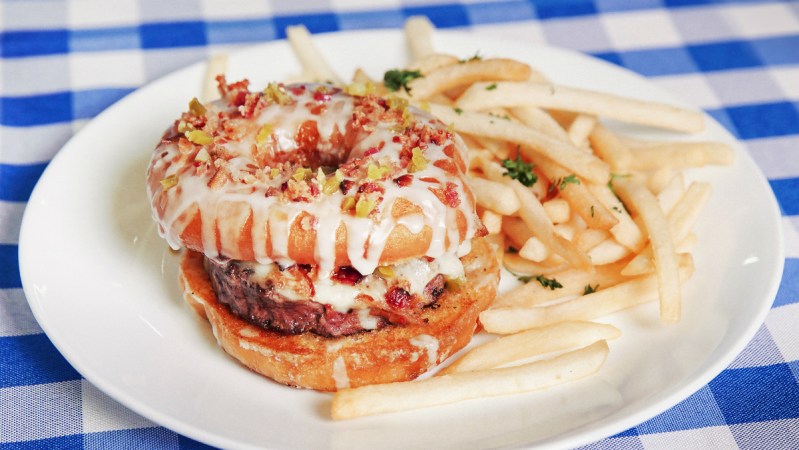 (Created by Man Vs. Food host Casey Webb)
Twisted Tea Glaze Ingredients
1 cup Powdered Sugar
1 oz Twisted Tea
Burger Ingredients
1 Plain Donut
1 Hamburger Patty
1 Slice Mozzarella
1 Half-Jalapeño, Chopped
2 Slices Bacon
Method:

Donuts
In a small bowl, whisk together powdered sugar and Twisted Tea.
Dunk donut in Twisted Tea glaze and let cool.
Slice donut in half width-wise when ready to prepare burger.
Burger
Season hamburger with salt and pepper and grill to desired temp.
Place into donut and top with cheese, chopped jalapenos, and bacon.
Drizzle remaining Twisted Tea glaze on top and serve with fries and a Twisted Tea Original or Half & Half 12 oz can.
Funfetti Donuts
Donut Ingredients
3 Large Eggs
1/3 cup Coconut or Other Unflavored Oil
1/4 cup Unsweetened Vanilla Almond Milk
1 tbsp Vanilla Extract
1/3 cup Rainbow Sprinkles
Glaze Ingredients (optional)
5 cups Organic Powdered Cane Sugar
2 tbsp Almond Milk
Method
Preheat the oven to 350°F.
Lightly grease two standard donut pans and set aside.
In a large mixing bowl, whisk the eggs together, then mix in the oil, milk and vanilla extract.
Add the cake mix and whisk until smooth and no lumps remain.
Fold in the sprinkles.
Divide the batter between the compartments of the two standard (6-compartment) donut pans (see note for a shortcut). Each compartment should be a little more than 3⁄4 full.
Bake for 10-12 minutes, until the donuts are risen, golden brown, and firm to the touch.
Transfer the donuts to a wire rack to cool completely.
Once the donuts are completely cool, you can glaze them.
Whisk together the powdered sugar and milk together until smooth.
Turn the donuts upside down and dip firmly into the glaze.
Shake off the excess and return them to the wire rack to allow the glaze to harden.
You can also garnish them with additional sprinkles immediately after glazing them, if desired.
Notes
The easiest (and least messy) way to fill the donut pan is with a DIY pastry bag: Transfer all of the batter into a large zip-top bag, snip off one corner of the bag, twist the excess plastic into a handle, and use the bag to carefully pipe batter in to each compartment of the donut pan.
If you object to using artificial colors in your food, you may either omit them from the recipe, or do a web search for "naturally dyed sprinkles" or "naturally dyed jimmies," which will turn up many natural options.
Editors' Recommendations