We love beer here at The Manual. We love it so much that it's not enough to simply drink it; we have to eat it, too. As it turns out, beer can be a formidable companion in the kitchen — and not just for cooking while drunk. That's why we've put together this introduction on how to cook with beer, complete with suggestions from Executive Chef Carlo Lamagna of Clyde Common in Portland, OR. Chef Carlo was also kind enough to provide a delicious celery beer jam recipe for upgrading your meats.
Why cook with beer?
Well, why not? Do you really need an answer to this question? Very well: cooking with beer is not about getting a little drunker with every bite; in fact, much of the alcohol burns up as you cook. Beer is great for adding depth to the flavor of your meal. Most beers add an earthy, malty flavor; the hops deliver the bitterness, while the malt provides a touch of sweetness. Beer is often used in marinades, and also lends itself well to sauces, baking, braising, frying, and many other aspects of cookery.  
Which beer is ideal?
Short answer? It depends. "When picking a beer to cook with, make sure to keep in mind that all the flavors you taste while drinking it will be enhanced during the cooking process," says Chef Carlo. "So if you use an IPA, for example, the bitter flavors will be more pronounced." Generally speaking, it's a good idea to offset sweet foods with bitter beer, and vice versa. And you might as well go for the good stuff, since the flavor will be gracing your meal.  
How do I cook with beer?
Basically any meat will be enhanced by beer. "Beer makes a great marinade or brine for meats going on the grill or the smoker, for braises, and for cooking shellfish in, like mussels and clams," says Chef Carlo. It's a good idea to add just a little bit of beer to your sauce at first, then add more as you go. Keep in mind that the flavor intensifies as more liquid evaporates. We recommend heading over to AllRecipes.com for some great beer recipes.
Related: A Damn Fine Beer-Can Chicken Recipe
Celery Beer Jam

By Executive Chef Carlo Lamagna (pictured)
Clyde Common, Portland, Oregon
Now here's a special treat – celery beer jam. It might not sound especially appetizing, but trust us — we think you'll like it. This jam goes well with all sorts of dishes, but is especially well suited to meats.
Ingredients:
6 lb. celery, peeled and diced

1 qt. of any wheat-based beer or hefeweizen (Chef Carlo uses local Double Mountain Kolsch)

1 pt. celery juice

18 oz. sugar

1/2 oz. salt

Zest of 2 lemons

1 1/2 oz. lemon juice
Method:
Combine in a sauce pot, bring to a boil.

Remove from heat and let stand, covered, overnight.

The next day, strain liquid into a saucepan, reserve strained celery.

Cook liquid to 215 F.

Add reserved celery back in and continue cooking until mixture returns to 215 F.

Remove from heat.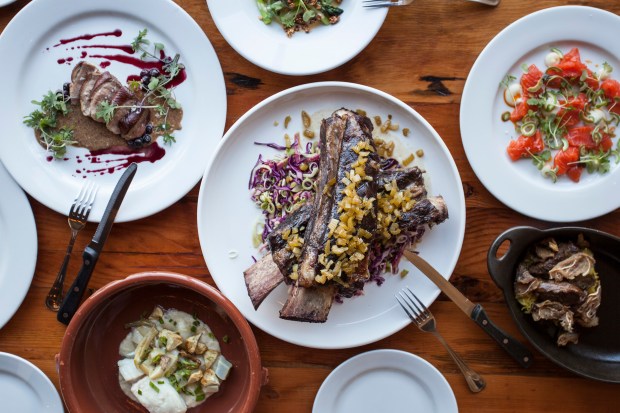 Carlo also has a few suggestions for how to enjoy this jam:
At Clyde Common, we serve our celery beer jam over the grilled beef ribs with skillet cornbread.

Beer jams are delicious over meats of all kinds, but can also be used over desserts like ice cream or even over some cheese. You can experiment with different types of fruits and vegetables as well, like carrots, apples, mangoes, cherries, and even parsnip.
So there you have it — a brief introduction on how to cook with beer. Now it's up to you to go forth and experiment. If you have the urge to pour a little beer on your chicken the next time you're grilling, just go with it. The worse that can happen is your food ends up with some beer on it.
Editors' Recommendations