Ashley Wells' hospitality résumé reads like a "Where to Dine and Drink in LA" guide for the past decade. These days she's most known for Pour This, her currently shelved, boutique wine club, and is now the co-owner of Los Feliz restaurant All Time with husband Tyler Wells.
Starting off at Osteria Mozza in 2008 (known as Ashley Ragovin then), she would grow into one of the defining sommeliers and hospitality managers in the Los Angeles food scene. From Animal to Scopa to Trois Mec, Ashley, 36, had a hand in some of the most memorable dining experiences around town.
Approaching LA Wine
When she started at Mozza, Ashley admits to faking it before she wound up making it — all while under the demanding gaze of the general manager at the time David Rosoff. When she left for Animal, where she served as the general manager, she understood the tough love in a true Karate Kid glow-up.
"Everything that I had learned from him without knowing it just kind of flooded my being and really informed the next several years of my career," says Ashley about Rosoff, who became a mentor and friend over the years.
Throughout her hospitality tenure, Ashley has remained consistent in her focus on honesty and integrity when interacting with customers. She manages to dissipate the stuffy preconceptions about wine in a way that's "not dumbed down, but also not pretentious."
"I think L.A. is definitely a flexible, whimsical dining community. I don't think it's very bogged down by decades of fine dining tradition," remarks Ashley, who is less concerned with traditional wine pairings and is more into crafting experiences. "But I also think there is just a huge shift in terms of a demographic that's really interested in wine and that is really engaged in not just eating and drinking for luxury, but also there is a commitment to conscious consumption."
Pour This
By 2015, Ashley started to struggle with burnout. Working at the management level, she felt that there was " a ceiling to that role," and started to consider a new way forward using her skills and knowledge.
"I had also formed these incredible relationships with regulars, diners more so than winemakers, at that time. And I really was telling people 'no' a lot, like, I don't think you can get that wine out of a shop or in Colorado," she says. "So it was like the hospitality part of me in my DNA was just cringing every time I couldn't tell somebody else."
And Pour This was born. The wine subscription service offered customers special bottles, typically from smaller winemakers. She feels a strong sense of responsibility to those creating beautiful bottles in adverse conditions and preparing their vineyards for future glory. Each box also included something else close to Ashley's heart: Music. She always had a passion for curating music playlists for restaurants, so each box came with a mix CD.
"I think with music, that comes from not the thinking mind, but the heart … And I think about wine in that way. If you're not a wine industry person, that's kind of a language that I think people can understand," she says, inviting customers to be adventurous and believe in their own taste. "But don't be so demanding of yourself that you think you need to know the stuff that a technical industry professional might know because that's not how anybody talks in real life anyway."
Pour This was well received by customers and critics alike with recommendations from various publications, including Eater and Bloomberg. The subscription prices changed a little over time, but were consistently more expensive than, say, a Winc or Firstleaf. In exchange for the higher price tag, customers received bottles from obscure producers that offered both individuality and approachability.
"It was working, but the logistical challenges were overshadowing the real initial reasons why [we] launched in the first place: To connect with people to bring good wine to people's homes," says Wells, juxtaposing the experience against the in-person rewards of All Time. "You think you have to carry something with you forever because it was the first thing you did. Sometimes in order to grow, you have to take a step back."
All Time's Secret Ingredients? Love and Community
Tyler Wells made his mark on LA with Handsome Coffee which helped usher in a new wave of coffee culture in the city. While Ashley was still at Animal, he stopped by trying to get Handsome Coffee on the menu. She said no.
"I didn't see her again for three years but that one night made a heck of an impression on me," says Tyler, also a chef, who would work with her at Superba a few years later.
When they became a couple, backyard dinners became commonplace. Tyler's culinary creations, complemented by Ashley's wine selections, made the move to a restaurant inevitable.
"We always had a lot of mutual respect and a very, very aligned approach in terms of taking care of people and what an experience dining out should be or could be." Ashley mused about their friendship and eventual partnership. "All Time came about very organically. We kind of just took a risk and … kind of built the plane while it was flying."
Since All Time opened in January 2018, in the ashes of hidden gem Twenty40, it's received favorable reviews for Tyler's menu and Ashley's wine curation and hospitality skills. Brunch and lunch are the most affordable times to visit, but the relatively expensive and ever-changing dinner menu is accompanied by a thoughtful wine list with whimsical tasting notes from Ashley.
"Our professional life is very personal. It is collaborative and it is very dynamic," Ashley says, citing not just her relationship with Tyler, but valuable input from their staff. "When we're out of town, we get texts from regulars about how great our people are. The restaurant's like a second home. And the people who come in and the food we serve, it's all very much an extension of what's important to us."
"Ashley has such a nuanced understanding of the bigger picture of the restaurant," says Tyler, echoing Ashley's respect for their working relationship. "Her eye for micro-hospitality will always astound me and encourage me."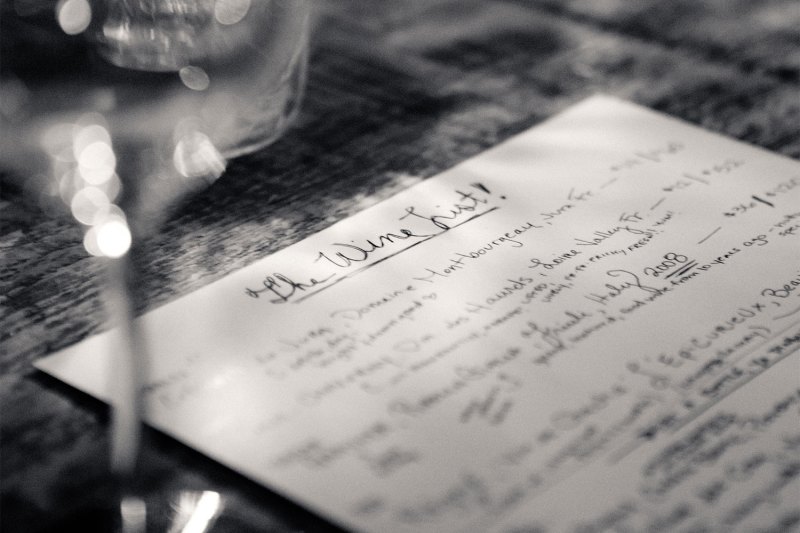 Coming up on its two-year anniversary, All Time has cultivated a local community that helps the restaurant thrive. In addition to attracting patrons from across LA's notorious sprawl, All Time pulls folks from Los Feliz and neighboring areas who remain enthralled with the dining experience.
"You have to like really mean it. You have to really feel it. You can't just set out and be like 'our business plan is to be a community,'" Ashley says emphatically. "You have to show up every day and know people's names, know people's kids, and know people's dogs."
"It's not about the composition on the plate, and it isn't about the wine allocations. It's about bringing people into a world and nourishing them."
Quotes have been condensed for clarity and brevity.
Editors' Recommendations