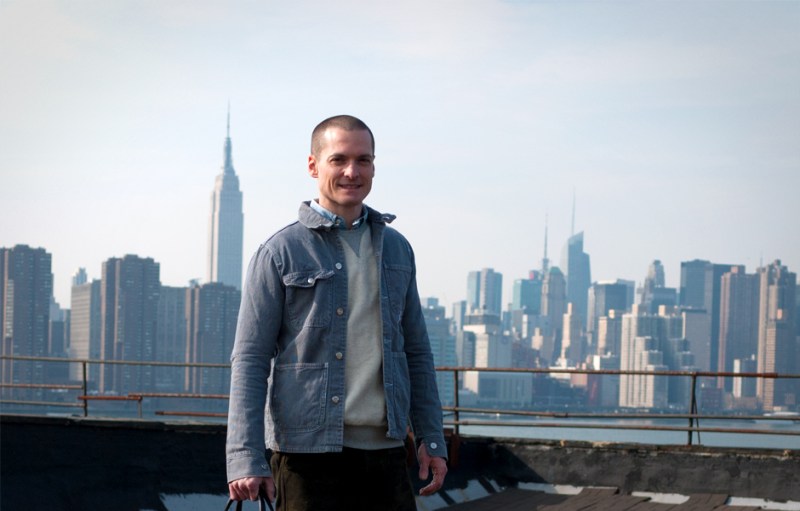 Today we speak to Chad Beightol about his career and personal style…
I am currently the founder and leader of Lodgegoods.com a Men's American-made accessory shop. The idea developed over time from my previous jobs- I've been in retail my entire career as a merchant for companies like Levi's, Gap, and Coach. I found that American brands have a clear pattern- start small, grow through national expansion, then boost profits by moving manufacturing overseas. American brands become global brands but the American aspect becomes only the design aesthetic, not the craftsmanship. A large part of my job was finding the best, cheapest place to make something for these brands, and it was always in Southeast Asia.
In my travel through work, I discovered something else – the passion for American-made goods still exists and that passion is overseas. In Japan, Korea, Australia, Shanghai and London – there is a real reverence for the American craftsman and things that are Made in the USA. It's not so much about the American heritage aesthetic, as it is for the actual heritage. The kicker for me is that there are American factories and brands that have survived solely because of this international following, but they have little following here. So I started buying these things for myself until it became clear that I had to do something more with it. On a trip to Japan in December 2012, the idea to help bring American-made brands to an American guy developed more into a plan and we launched our shop last summer. I've always been a huge fan of guys amping up their style through accessories so that's where we've started – offering cool accessories from brands and craftsmen that are up-and-coming. Of course, we're a retailer, so we have to edit, but we have discovered so many talented artisans and designers who are growing their brands by doing what they love- making things in their workshops.
Growing up, I was surrounded by entrepreneurship and craftsman. With this life, failure is a part of the process. One of the great failures that inspired me is my family's furniture company. My grandfather created a furniture factory in Virginia that made contemporary designs and built a big following. It was great until the late 1980s, when manufacturing went to China and the entire furniture industry collapsed, including our business. I always knew I wanted to help change the trend of outsourcing, but I didn't figure how until I launched our store. The design impact also had a lasting impact on me- the clean lines of the furniture design, working with leather, the presentation and merchandising of a line. The learning and experience from all these great companies I've worked for has shaped my appreciation for design, craftsmanship, product presentation, and how to take great care of your customers.
At The Lodge, we carry a full range of goods that a guy can use to accessorize himself- great bags, wallets, ties, scarves, and jewelry. We don't offer shoes or clothing- yet. We're passionate about guys taking care of themselves, so we've got a selection of the best grooming brands in America. We love our customers and our brands. And the best part- pretty much everything is made here, with a few exceptions. Importantly, Made in USA isn't a look, it's an ethos. The style can be modern & refined, or rugged and rustic. We offer both.
With fashion and style, I've always followed these rules and I apply them to our business here:
1- Have fun
2- Don't worry about what other people think
3- Always try something new- don't get in a style rut
4- Rules are bullshit
That's all.
Jeans: Levi's Made in USA 511s (I hope they keep making them here).
Shirts: The best-fitting shirts for me come from Beams, Club Monaco, and Uniqlo. I pretty much wear one every day.
Pants: If I can't wear jeans, then it's United Arrows or the Alpha Khaki from Dockers.
Suits: All from United Arrows. They're suits pretty much fit me off the peg. Typically I wear an un-suit, which is one of my unlined jackets from United Arrows or Beams and jeans.
Shoes: I would say that I have too many of them and always trying out new ones, but I wear mostly Brogues from Church's & Grenson, New Balance 420s, and Church's desert boots. This winter I got some serious wear out of my LL Bean boots. My next shoe will be a Greats sneaker – very cool.
Accessories: On my wrist is a hunk of metal beaten into a bracelet by Mr. Billy Moore from Cause + Effect and an old blue-faced Omega Seamaster watch. I'm always wearing a scarf- now that the weather is changing I'm wearing one of my favorites from Late Sunday Afternoon. My bags are a Coronado leather tote, vintage Coach briefcase (when they were Made in America), Archival backpack, and I'm always lugging things around in Steele Canvas bags, they're solid. And there's usually a bourbon-filled flask in the mix- of course I'll share.
Outerwear: My go-to ones are a waxed canvas coat from Billy Reid, a wool peacoat from Rugged Factory, and a Crescent Down Works vest. I'm looking forward to warmer weather so I can wear my Pointer Chore coats and Levi's trucker jackets.
Your favorite App: Three- I'm addicted to Instagram, use the Airbnb app anywhere I travel, and Buzzfeed, a perfect time-waster. Someone introduced me to A Beautiful Mess and it's a great photo editor.
Favorite piece of technology: My old 1964 car. I think all the technology you need is right there in the Porsche 356.
Next tech purchase: My other half tells me I better get a smart watch when they're released, since I'm always late.
Editors' Recommendations