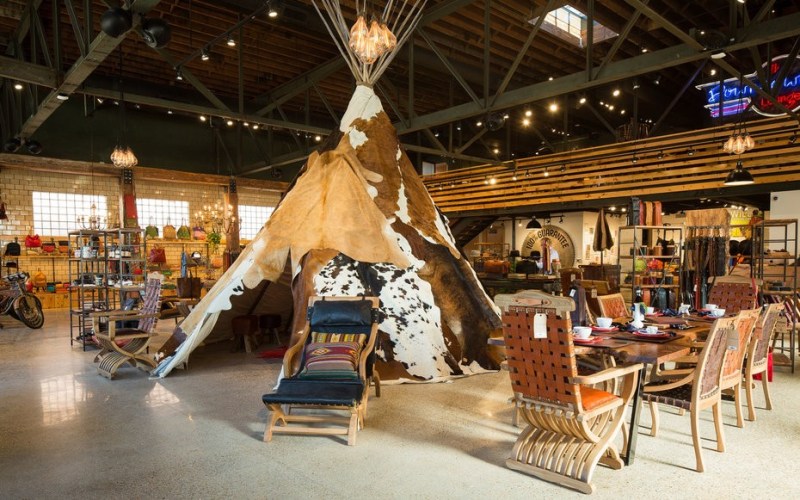 In the early '80s, you could find Will Adler, the founder of Will Leather Goods, selling leather belts from a small stand on the Venice Beach boardwalk. Adler moved to Eugene, Oregon and founded Will Leather Goods, a lifestyle brand inspired by his surroundings in Oregon. Fast forward to 2016. Will Leather Goods expanded to produce more than just belts. Now, it carries wallets, bags, purses, beanies, scarves and more, with eight locations, including a flagship store in Venice Beach, four Oregon locations in Eugene and Portland, one in New York and San Francisco, and the newest location in Detroit.
The opening marks the brand's first location in the midwest. Will Leather Goods took the space that was formerly the historic Tomboy grocery store, embracing the city's DIY ethos and creative culture, and turned it into a concept store that features a coffee shop and an art gallery. As is the tradition in Detroit, the materials for the building were sourced from the city's endless supply abandoned buildings. The vintage signage, light fixtures, bathroom stalls, floors and came from salvaged buildings, and the coffee shop is even made entirely from recovered materials from a historic Detroit firehouse.
Designed by Birmingham, Michigan-based architects, McIntosh Poris Associates, along with William Adler Design, the 9,000-square-foot space, located on 4120 2nd Avenue, is among the newest stores in the city's Midtown. They worked with Architectural Salvage Warehouse of Detroit to source the reclaimed materials. The gallery space, which opened with a series of photographs by Robert Shaw titled,  "American Heroes and Dreamers,"  will feature work that highlights the history of both Detroit and the United States. To mark the occasion, the company donated 4000 backpacks to Cornerstone Schools' students as part of the company's Give Will program, founded on the belief that every child deserves a bag to carry their dreams.
The location is particularly special to Adler, because he was born in Northwest Detroit. "I am proud and humbled to be returning to Detroit, to the city that made me who I am today, and to be able to share the quality, passion and integrity that the Will Leather Goods brand represents with the people of Detroit," said Adler.  "We look forward to much success in our newest location, but just knowing that Will Leather Goods is playing a small part in the rebirth and growth of Midtown, and that we're helping some very deserving students, is a reward onto itself."

For more information, visit willleathergoods.com.
Editors' Recommendations