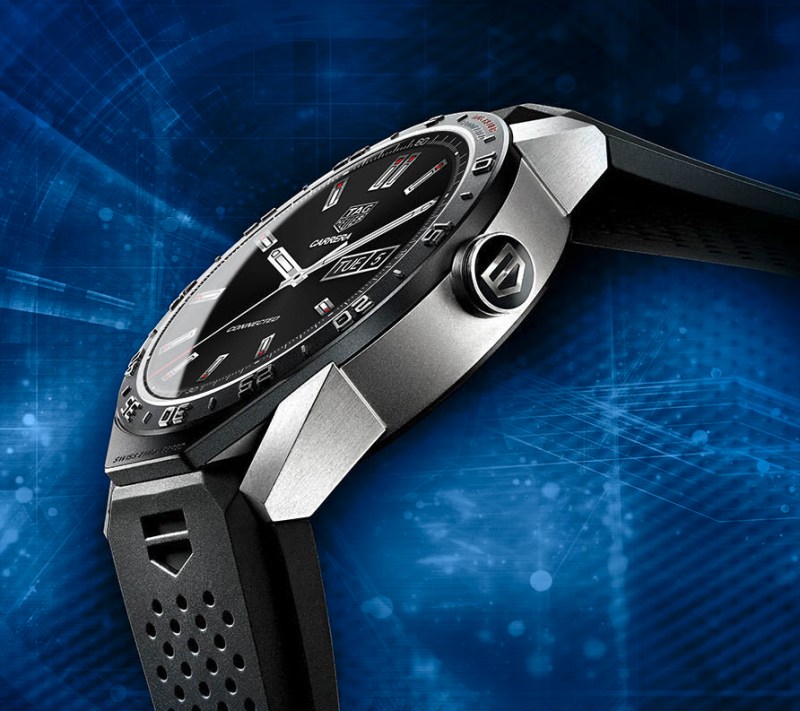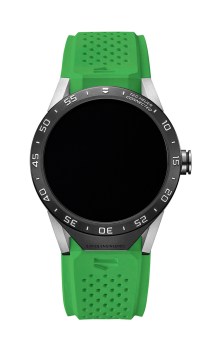 How has the Apple watch effected high end watch sales? This question is the most frequently asked question of me by non watch enthusiasts. Mechanical high-end timepieces and pieces like the Apple watch are not in the same segment. A watch enthusiast may purchase an Apple watch because of the cool factor, but it is not going to keep him from making a true high-end purchase.
These lines have officially been blurred, and by none other than the infamous Jean Claude Biver. The man known for taking over and revamping Swiss watch brands such as Blancpain and Hublot is back at it. Having signed on with LVMH owned Tag Heuer a few years ago, he has been hard at work. A few new designs have come out of Tag Heuer since his arrival but none as groundbreaking as the timepiece that
made its debut this past week. Tag Heuer has introduced the first high end smart watch timepiece; the Tag Heuer Connected.
The Connected is a mix of luxury watch and smart watch. At a substantial 46mm in diameters, the piece is made of titanium, attached with a rubber strap and folding buckle, and looks every bit of classic Tag Heuer sport. What is inside it what makes this piece so groundbreaking. Within this titanium case lies a smart watch movement complete with Intel processor, 4gb of memory, wi-fi, bluetooth, and all that completes a current smart watch. Operated off one crown and a sapphire crystal touch screen, all the functions of an Adroid Wear operating system are at your fingertips. Capable if syncing with both Android and iPhone operating systems, this piece truly combines smart an luxury.
This might be the beginning of a new trend. The high end watch world is taking note of the
popularity of the smart watch. A smart watch will never replace the elegance and history of a true high-end mechanical timepiece, but why should luxury brands sit back and watch? Priced at a reasonable $1,500(for sale now), if after two years you have had enough of your smart watch, Tag Heuer will place an in-house mechanical movement inside. Jean Claude Biver might have done it again. Who will be the next high end watch brand to blur the lines and place a smart watch where a mechanical movement belongs?
Update:
The Connected Watch by Tag Heuer has hit the market with a splash. The press that came along with this launch preceded the releases of other brands smart watches such as Breitling. The price point is the major key here. At $1500 this watch is affordable and worth a purchase for the large collector regardless of true interest in it. The dealers have not been receiving many, the website is often sold out, and the values of these pieces are held high on the preowned market. So far, so good for Tag Heuer.