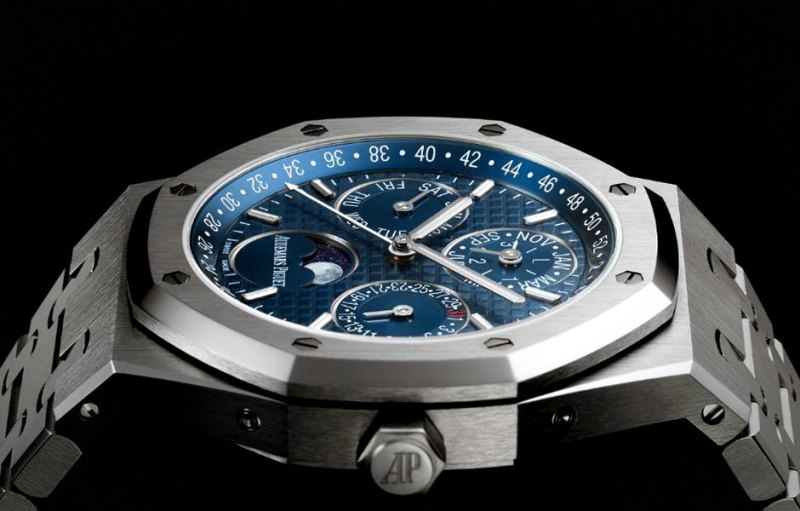 The perpetual calendar is one of the most classic higher complications. A personal favorite of mine, this calendar complication tells the day, date, month, year, and will adjust for different length months and leap years. More useful than a chronograph and less expensive than a tourbillon or minute repeater. Although the complication has been around for hundreds of years, it's long overdue for Audemars Piguet to update one of their flagship timepieces; the Royal Oak Perpetual.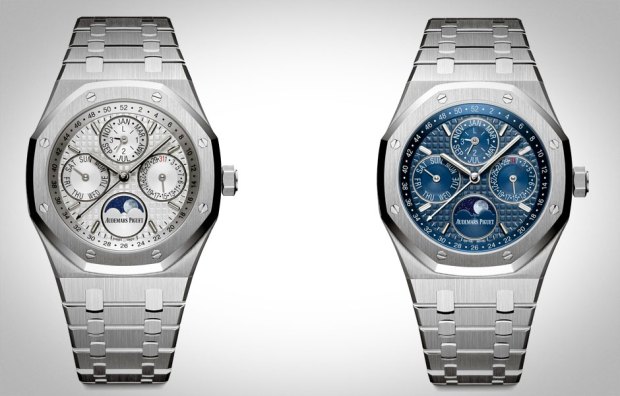 A few years back, Audemars Piguet introduced their world class royal oak design in a slightly larger 41mm. Time only and chronograph versions have been terrific sellers and its about time a new complication has been introduced. The larger case allows for the a legible, symmetrical dial which includes a moon phase and 52-week indicator along the perimeter. A newly engineered movement has been designed to fit the slightly larger case but still maintains a slim profile of a mere 4.31mm. An exhibition back offers a view of the fine movement finishing. Equally fine is the finishing on the royal oak case and bracelet with a combination of matte and shiny finishes. This new perpetual is offered in four variations: rose gold with either silver or blue dials, and stainless steel with either silver or blue dials.
If there was one high end timepiece that could be the be all and end all it would would be the Royal Oak Perpetual. At its new 41mm size, it makes for a great all around piece and thin enough for dress as well. The Royal Oak is one of the few bracelet pieces that is a certifiable dress watch as well. With the price tag that comes along with it might have to be your only watch also. The stainless steel MSRP is $60,900 and the rose gold is $95,700. A small price to pay for the most iconic bracelet design with the most classic complication inside.