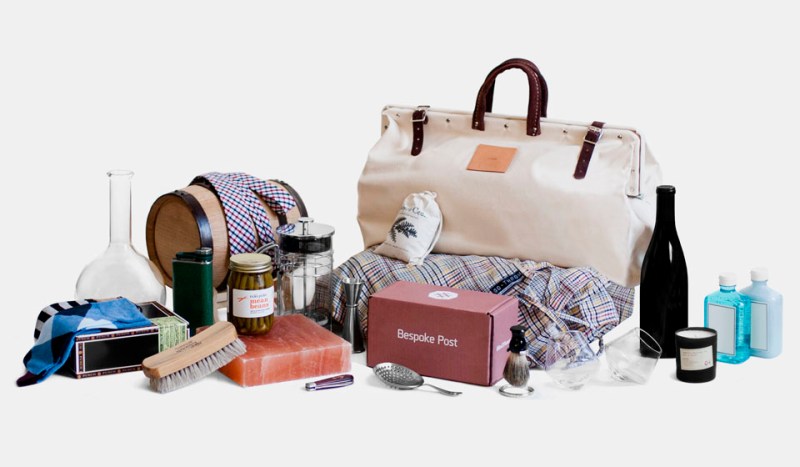 Before you even open your first box you see #boxofawesome on the outside.  For Bespoke Post, delivering that box of awesome each month is solving a problem for most guys. That problem being, many men don't enjoy shopping.  But what they do enjoy is being in the know about the newest, coolest, unique, and very curated products, just for them.
Bespoke Post is a members-only lifestyle subscription club for men. They mail their members a recurring and themed box filled with products from the world's best brands.  They provide product discovery and education to their valued members and help turn each of them into the Most Interesting Man in the World, one box of awesome at a time.
Bespoke Post provides brand discovery, savings, & advice on autopilot. They use a unique combination of expert curators and personalization. They create unique product experiences that 'wow' their faithful members.
The Manual posed 3 questioned to Rishi Prabhu, co-founder of Bespoke Post.
What defines the "Box of Awesome"?
We scour the world for the best brands, designers and craftsmen to create a package that delivers an interesting experience to our members. Each month, we create a limited-edition "Box of Awesome" that helps each of our members become the most interesting man in the world, one box at a time.
What was the impetus to start this great product offering? What did you see needed in the marketplace?
A little over a year ago, my co-founder and I realized that there was so much focus in the retail and e-commerce space on women and the power of the purse that guys were largely being ignored. At the time, the vast majority of web 2.0 e-commerce site were built for women and when those services expanded to males, all they did was change the color scheme and slap the word 'Men' at the end. Guys are different and their experiences should be too.  Men don't want to browse through hundreds of options or receive monthly samples to find what we want. We want to discover new products and brands without all the work. We may not like to shop, but that doesn't mean we don't like to buy. The subscription model provides the perfect medium to deliver a high-quality, fully-curated experience to men where we do most of the work and they just have to take the final step.
What differentiates this service from others out there?
I think we have two important differentiators. First is our "experiential curation" – we don't just send random products. We wrap thematic products and content together to create an experience that our members would love. Second is the "opt-out" model. We let people know what they are getting ahead of time and allow them to skip it free of charge.
Brands are excited about having a personalized, high-touch interaction point with the elusive male consumer.  So, I ask you, what could be better than receiving something curated with you in mind, monthly?  The thrill of the box !
Editors' Recommendations