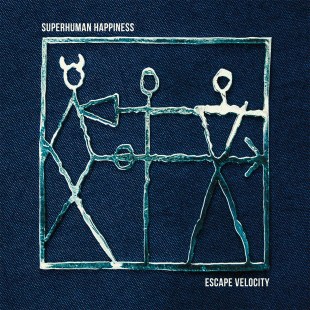 Stuart Bogie may be one of the most in-demand musicians in New York right now. He has worked with: Antibalas, Arcade Fire, David Byrne, Iron & Wine, and TV on the Radio. Given all his collaborations, it is impressive that he finds time not just to make original music, but to make excellent original music. Bogie's band, Superhuman Happiness, released their sophomore full-length, Escape Velocity, on September 18th through The Royal Potato Family.
The band play a brand of infectious and unrepentantly rhythmic dance music, even going so far as to call it "physical cinematic dance rock" at one time. Those already familiar with Superhuman Happiness' sound may be surprised at the thematic direction Bogie and co. take on Escape Velocity. The LP is self-described as "a seven-track effort that explores how human-made technologies inversely shape our internal emotional landscapes." The band's description of the album may sound overly ambitious, but Superhuman Happiness spend little time navel-gazing on the record. Those danceable rhythms keep the music from sinking under its own weight. "Date & Time," for example, finds its refrain in the lyric, "we're going nowhere clicking on those pretty pictures," but a propulsive bass line buoys the track.
Bogie and collaborator Eric Biondo consistently rearrange Superhuman Happiness' lineup. 2014 saw the release of a new single, "Catch a Break," featuring another rearranged lineup. This new lineup features Andrea Diaz—whose vocals can be heard not only on the single, but on the rest of Escape Velocity as well—plus contributions from Sarah Neufeld, Joe Russo, and Colin Stetson. All four musicians add considerable skill to the record, but it is Diaz's voice that comes through most prominently.
Superhuman Happiness' latest full-length, Escape Velocity, is out now through The Royal Potato Family and available via Amazon, iTunes, and The Royal Potato Family's online store.
Editors' Recommendations